Coinciding with the beginning of the most desired time of the year, we are launching our latest designer sun loungers, to relax and enjoy the beach or the swimming pool area.
Designer sun loungers are always the most important piece of furniture ideally for the summer season
The summer period is synonymous of free time, fun or rest. For this reason, outdoor terraces and gardens are the most outstanding outdoor environments this season where designer sun loungers are the ideal element to relax.
At Vondom we understand the importance of this outdoor furniture piece, which is why throughout the years, we have launched a wide variety of designer sun loungers.
So.. in this article you will find our latest designer sun loungers available in our catalogue, designs by Eugeni Quitllet, Karim Rashid and Ramón Esteve: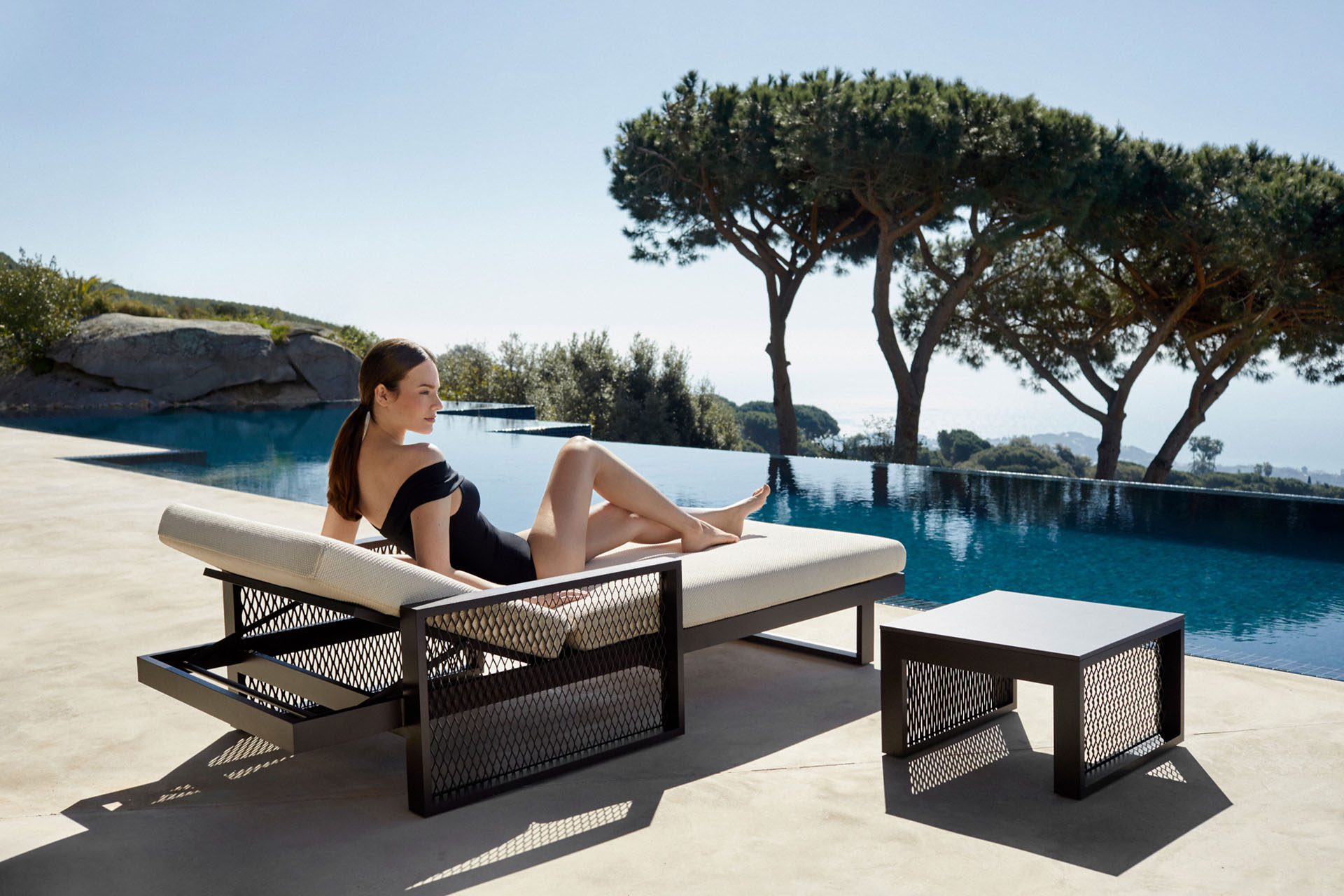 The Factory sun lounger | by Ramón Esteve
The Factory designer sun lounger is part of our latest products, a collection inspired by New York's cast-iron architecture, the collection projects the same industrial style as neighborhoods like Soho or Tribeca.
It is made of aluminium and is characterized by the contrast of the material and the design of the grille, with its generously proportioned upholstered cushions.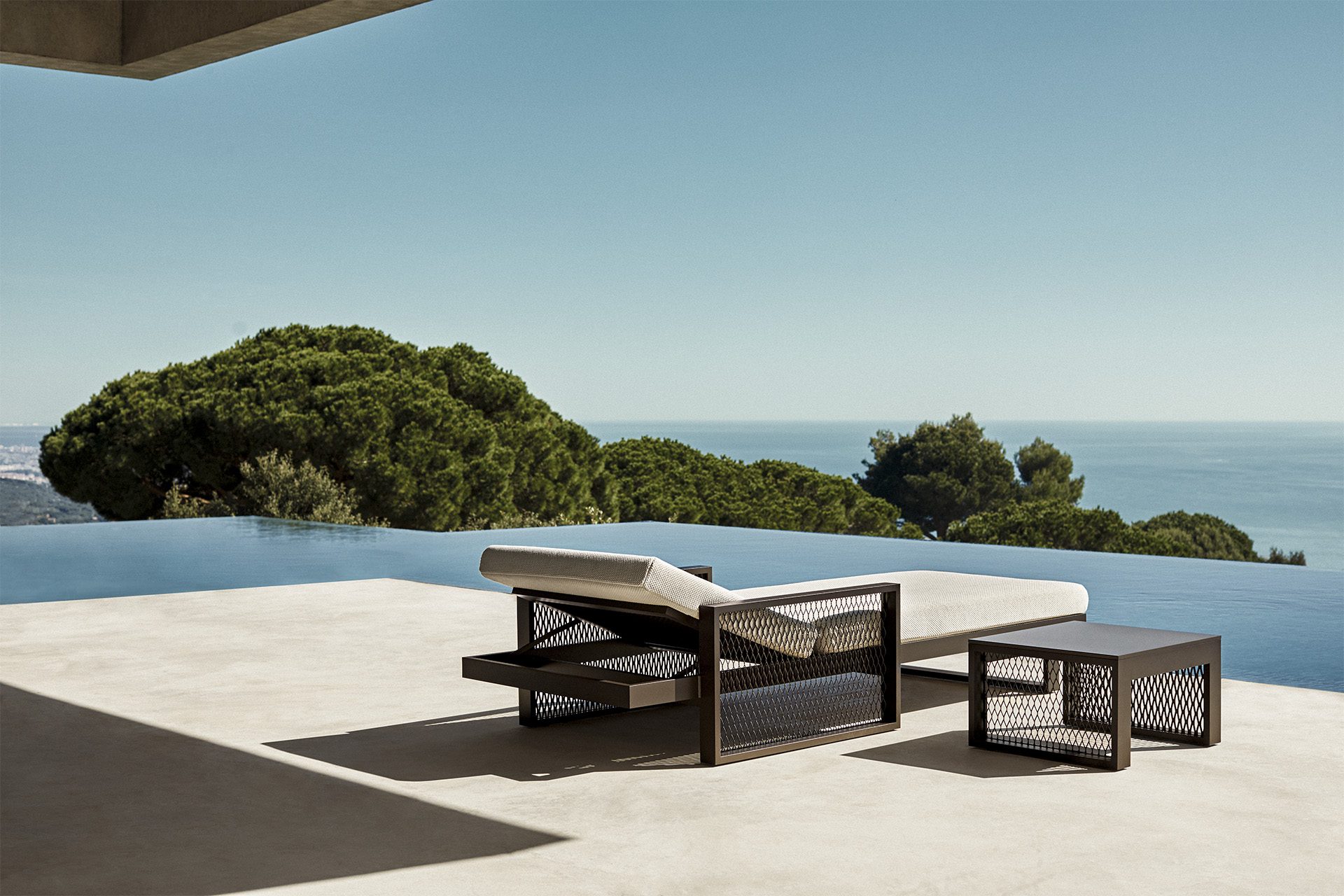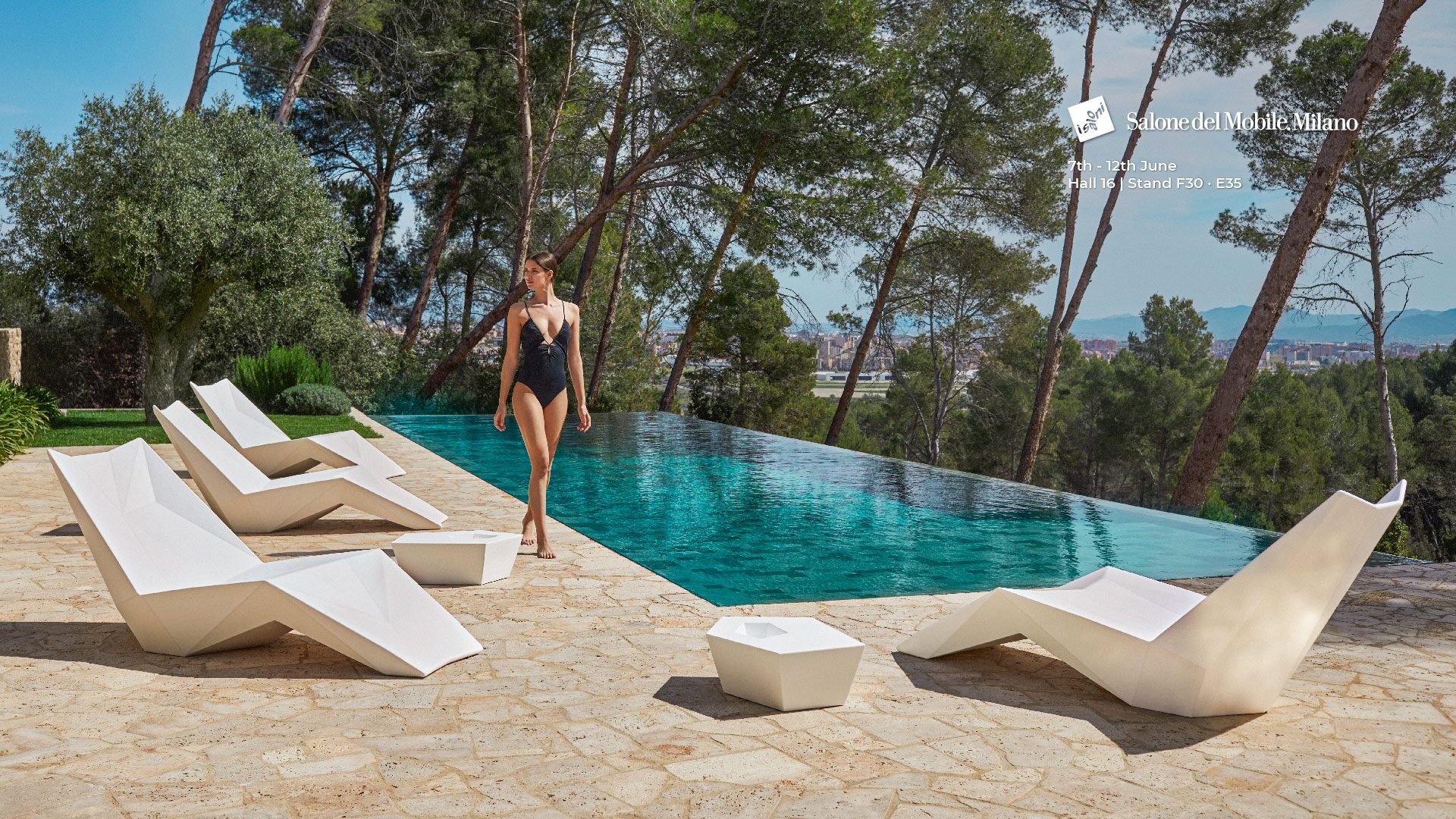 Faz sunbed | by Ramón Esteve
A designer product inspired by the shapes of a crystallized quartz stone. That is why, when you visualize this piece, you can see it's both robust and refined. Its faceted shapes are elegantly softened to embrace the posture and the shape of your body, seeking maximum comfort and ensuring both relaxing and enjoyable moments.
This exuberant designer sun lounger is ideal for around the pool area. This is why Vondom manufactures using highly resistant materials ensuring the highest quality for its outdoor furniture.
Africa sun lounger | by Eugeni Quitllet
With its simple and natural forms, the new Africa designer sun lounger is composed of a structure of injection of polypropylene with gas and reinforced with fiberglass with two large wheels, which will allow you to transport it easily.
With its robust and slightly elasticated Batyline polyester fabric, the sun lounger gains durability and comfort. It also dries very quickly, so it will always be ready to use whenever you need it. The backrest has four different positions to make it ever more comfortable. As it is stackable it allows you to save space.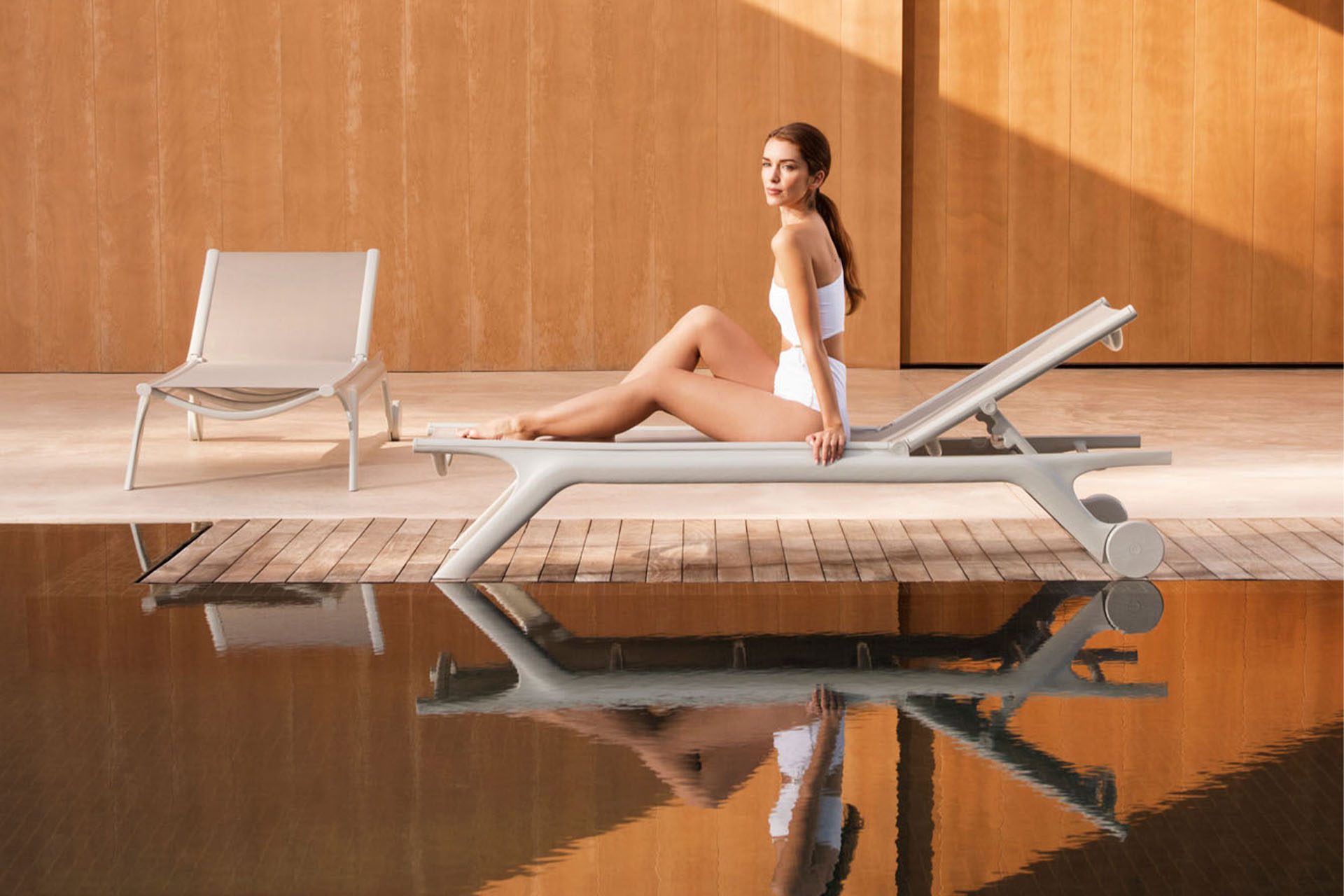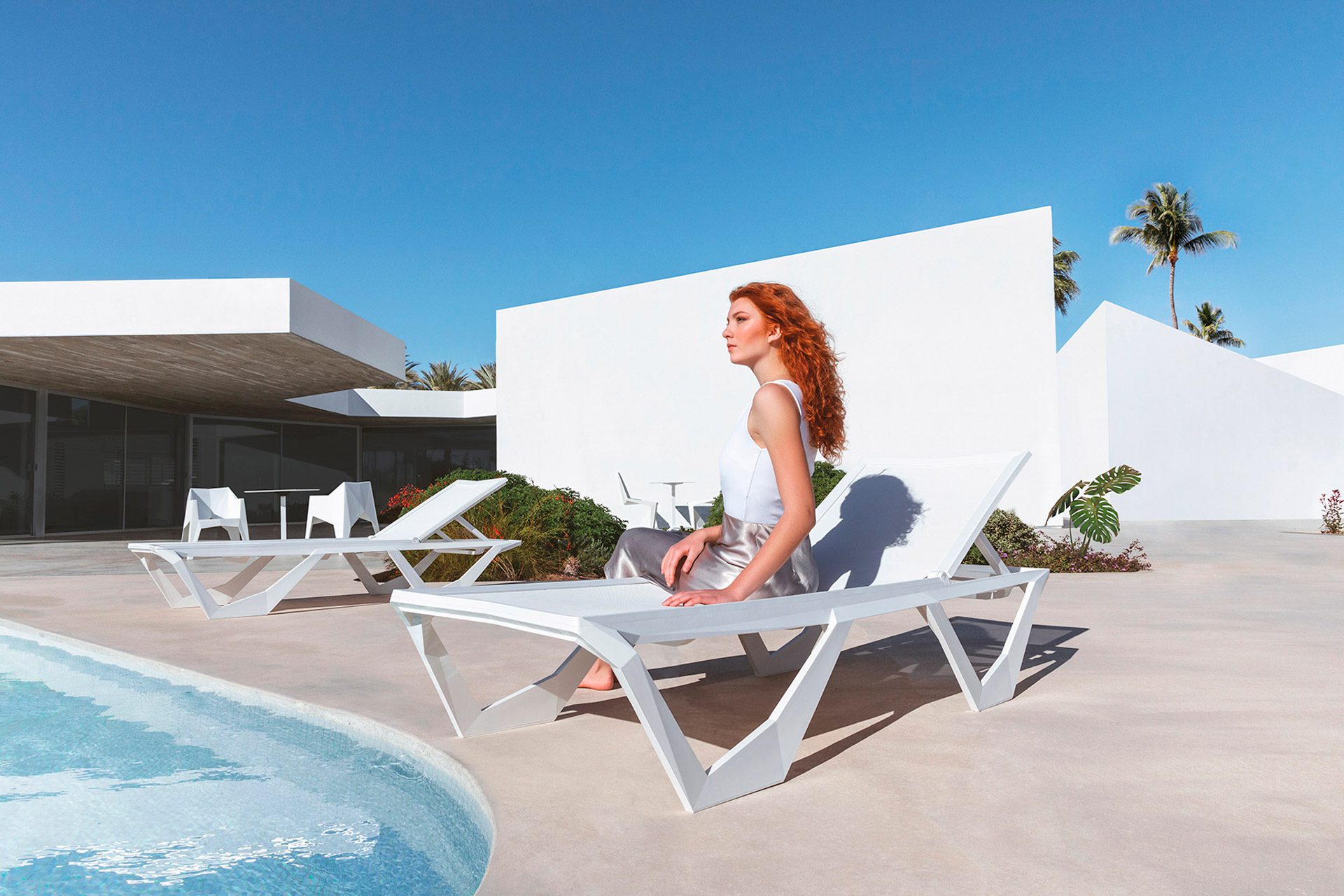 Voxel sun lounger | by Karim Rashid
Manufactured by injected polypropylene and reinforced with fiberglass, it's been characterized by its geometric, angled, and faceted shapes. This sun lounger meets all hospitality needs: it's sturdy, stackable, and has two wheels which make it easier to move.
It is also shaped like a skate, preventing it from sinking into the sand, so it´s the ideal option for sunbathing or relaxing by the pool or by the sea. Comprising of polyester fabric, its breathability is ensured.
In addition, our fabric fastening patent means this fabric can be quickly and easily replaced. Its reclining backrest has 4 different positions, which allows you to find the most comfortable posture.
This design suits all and is ideal in every modern decor atmosphere.
Tumbona Ibiza | by Eugeni Quitllet
Las curvas, amables y ergonómicas, respetan la forma natural del cuerpo, logrando mayor sujeción y comodidad. La tumbona, fabricada de una pieza, utiliza la técnica de inyección con gas. Además, está hecha de polipropileno y reforzado con fibra de vidrio.
Por consiguiente, el diseño posee todas las ventajas del monoblock: es apilable, eficaz, resistente y duradera.
El resultado es una poderosa pieza que permite disfrutar tanto del mar como del sol, ideal para terrazas o piscinas. Además, dispone de un acabado sostenible, basado en el uso de plástico reciclado como materia prima.
The pleasant and ergonomic curves respect the body's natural shape for an enhanced feel and comfort. The sun lounger consists of a single piece that is manufactured using the gas injection technique. It is made of polypropylene reinforced with fiberglass, so the design offers all the benefits of monoblock: it's stackable, effective, resistant and durable.
The result is a powerful piece that invites users to enjoy the sun and the sea, and is perfect for outdoor terraces or pools. It also has a sustainable finish thanks to recycled plastic as the raw material.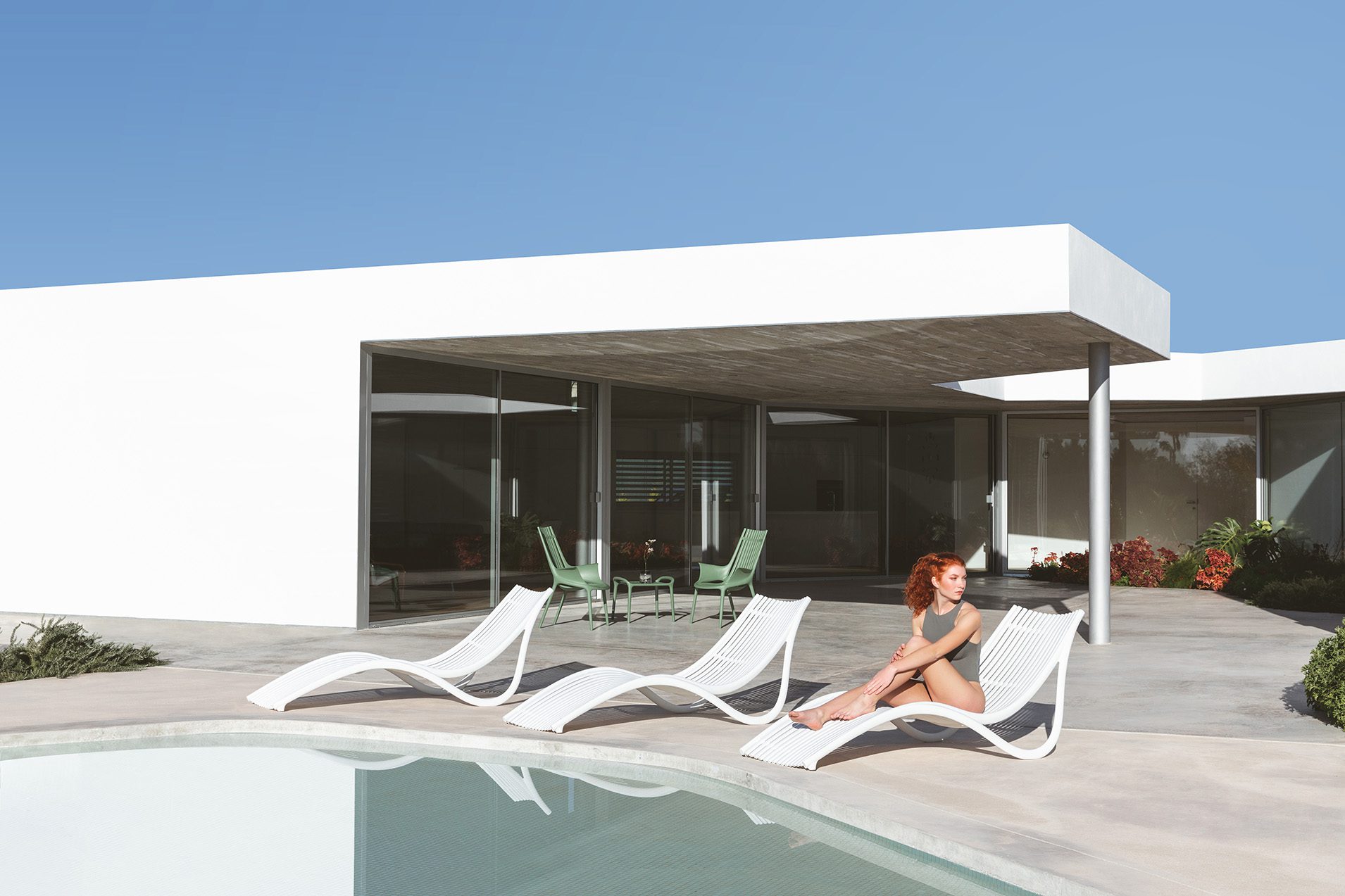 Let yourself fall in love, with our designer sun loungers, with the beauty of summer, synonymous with freedom and warmth.