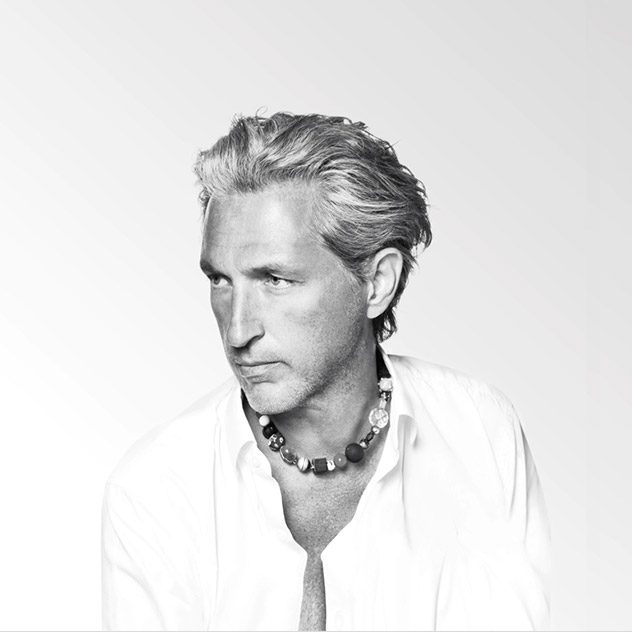 Marcel Wanders
Marcel Wanders studio is a leading product and interior design studio located in the creative capital of Amsterdam. The studio has over 1,900 + iconic product and interior design experiences all around the globe for private clients and premium brands such as Alessi, Baccarat, Bisazza, Christofle, Kosé Corporation/ Decorté, Flos, KLM, Hyatt Hotels Corporation, LH&E Group, Louis Vuitton, Miramar Group, Morgans Hotel Group, Puma among scores of others. Under Marcel Wanders and Gabriele Chiave's creative leadership and direction, Marcel Wanders studio employs 52 design and communication experts. Regarded by many as an anomaly in the design world, Marcel Wanders studio has made its mission to "create an environment of love, live with passion and make our most exciting dreams come true."
Who really are you?
My friends would describe me as a passionate person, slightly neurotic and sometimes off in another world, but passionate nonetheless.
What is your favourite colour?
I have several favorite colors. White, gold, black, red, orange and green. And of course, Joy's magenta!
What three items would you take with you on a deserted island?
If I had to choose just three, I'd have to say my future girlfriend, my daughter and my bird drone with an everlasting battery!
What is your favourite childhood memory?
I vividly remember building magical things from the broken things in my father's shop. It is where I cultivated my imagination as a young boy.
What is your favourite movie?
My favorite movie is Rocky I. It is the ultimate underdog success story.
Do you have a hobby?
I enjoy the history of things. I am attracted to things with a story to share, something that gives it relevance and meaning to our time here now.
What was the last thing you bought?
The most recent album I purchased was Jamiroquai: "The Return of the Space Cowboy"
What is your proudest accomplishment?
Without question, raising my daughter, Joy continues to be the greatest opportunity I have ever been given. She is such an exceptional soul, i love her beyond my life! She surprises me every day and is surpassing all my expectations.
Do you have any fixation or any quirky habit?
I love to sit and savor my self-made expresso on a 1963 Bialetti in Parco Sempione, Milano, between 9:00 and 9:24on a Sunday morning.
What do you do when you are not designing?
For me, creativity, expression and collaboration is the ultimate relaxation. When creating, I am most at ease.