A unique space at Feria Hábitat: L3 – 7E
Feria Hábitat is the meeting place where innovation and creativity come together to give life to the most extraordinary spaces. On this occasion, Vondom has had the honour of collaborating with Organics by RedBull to transform its space at the fair into a true oasis of design and comfort.
The N3 – 7E space has become the perfect setting to show how excellence in furniture can elevate any environment. Vondom's proposal has left all visitors amazed with its elegance and style.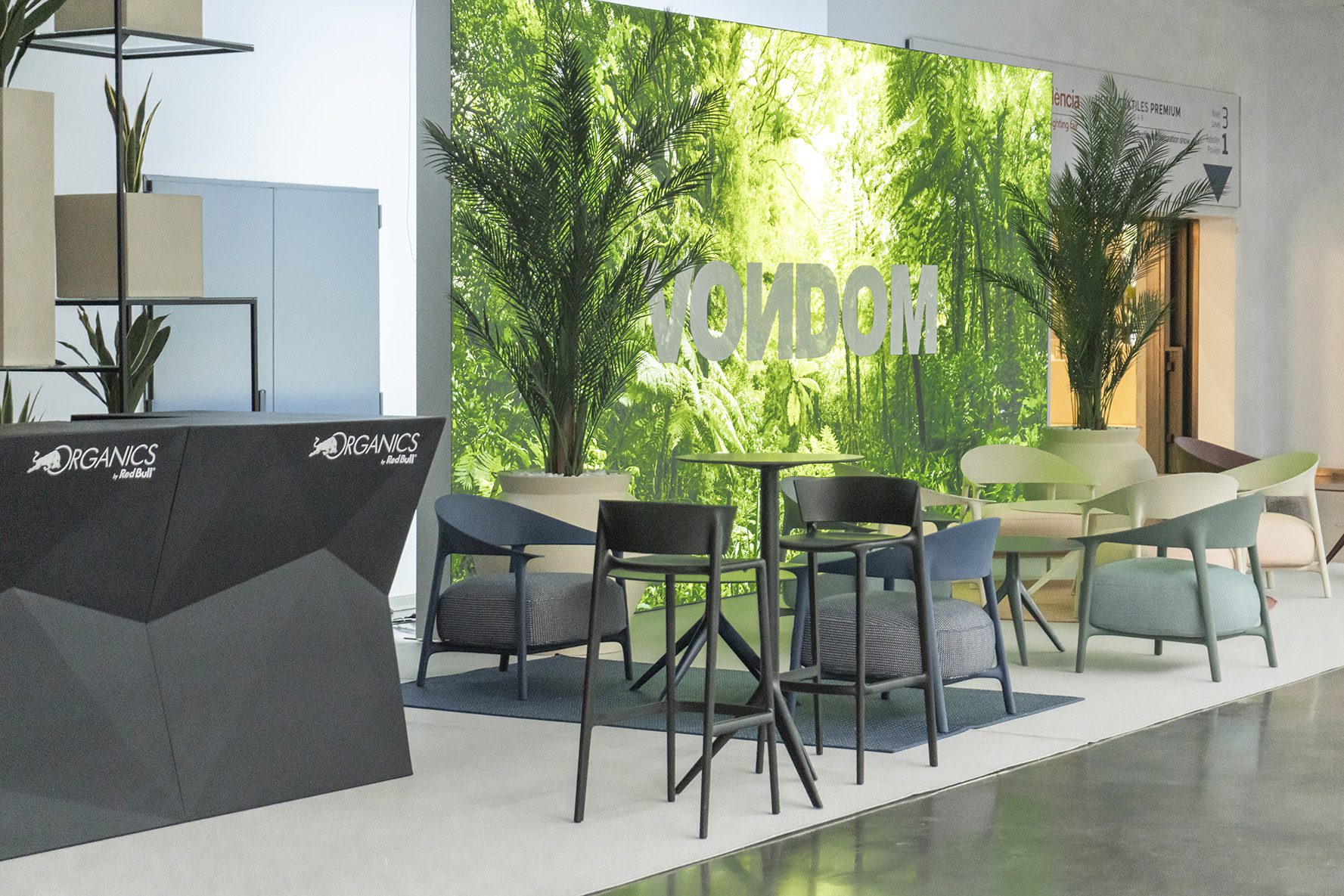 A space for interacting with Vondom furniture
In this space at Feria Hábitat, Vondom has arranged a selection of furniture pieces that reflect the essence of the brand. The Faz bars, designed by Ramón Esteve, in a black lacquered finish, feature the Organics logo engraved with laser precision, adding a personalised touch to the décor.
The Africa stools and Mari-Sol high tables, both designed by Eugeni Quitllet, also make an appearance in black, complementing the aesthetics of the space with their sophistication and functionality.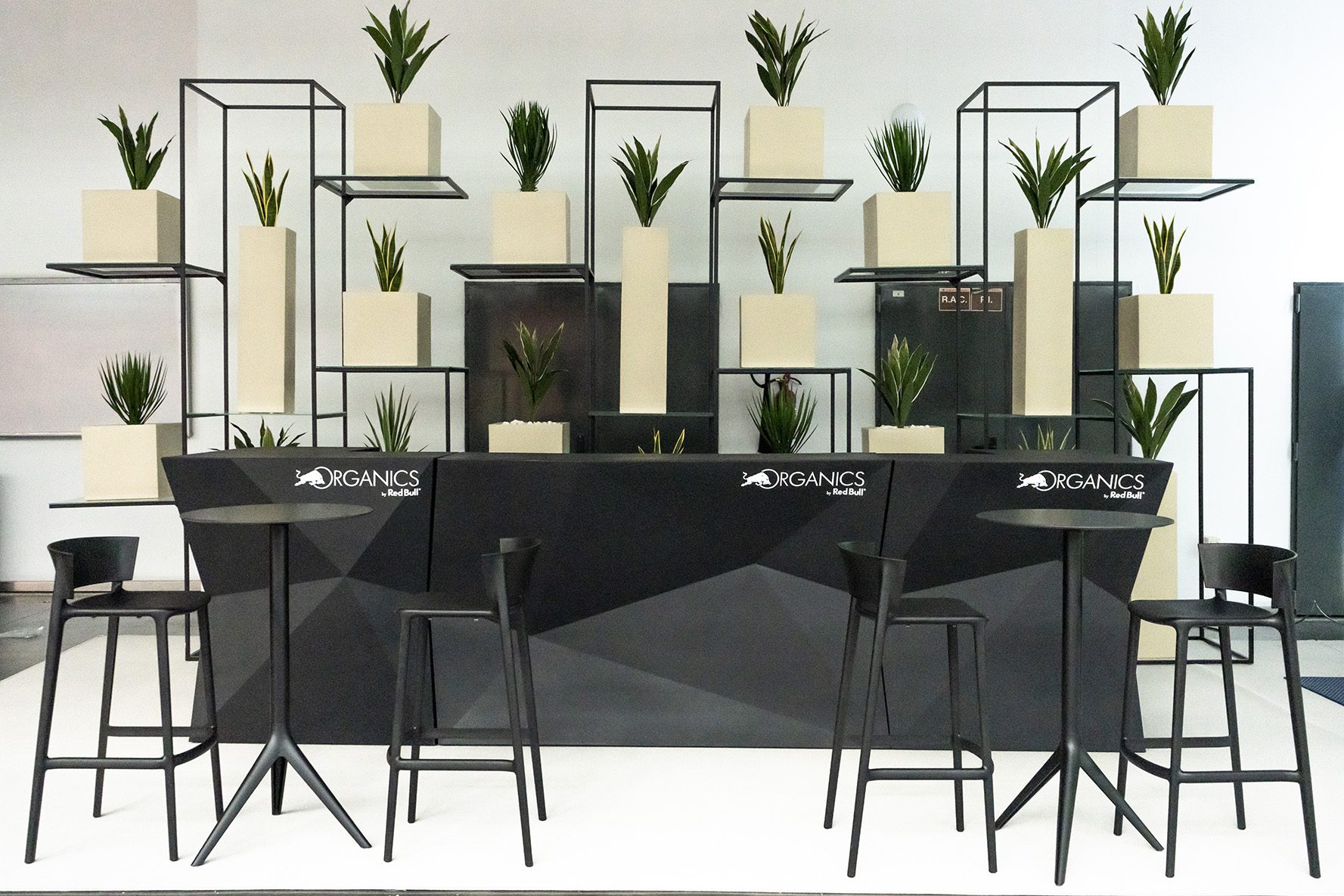 But the main pieces of the space are the Africa lounge chairs, also designed by Eugeni Quitllet. These armchairs stand out for their incomparable colour and comfort, available in purjai red, cream, modo green and navy, and combined with fabrics from groups 1 and 2 in their respective shades. Accompanying these armchairs are Mari-Sol low tables in the same colours, creating a harmonious and attractive ensemble.
To add a sophisticated and cosy touch, different rugs from Studio Vondom have been incorporated to perfectly complement the design of the space. These carefully selected details reinforce the feeling of comfort and well-being that permeates this corner of Feria Hábitat.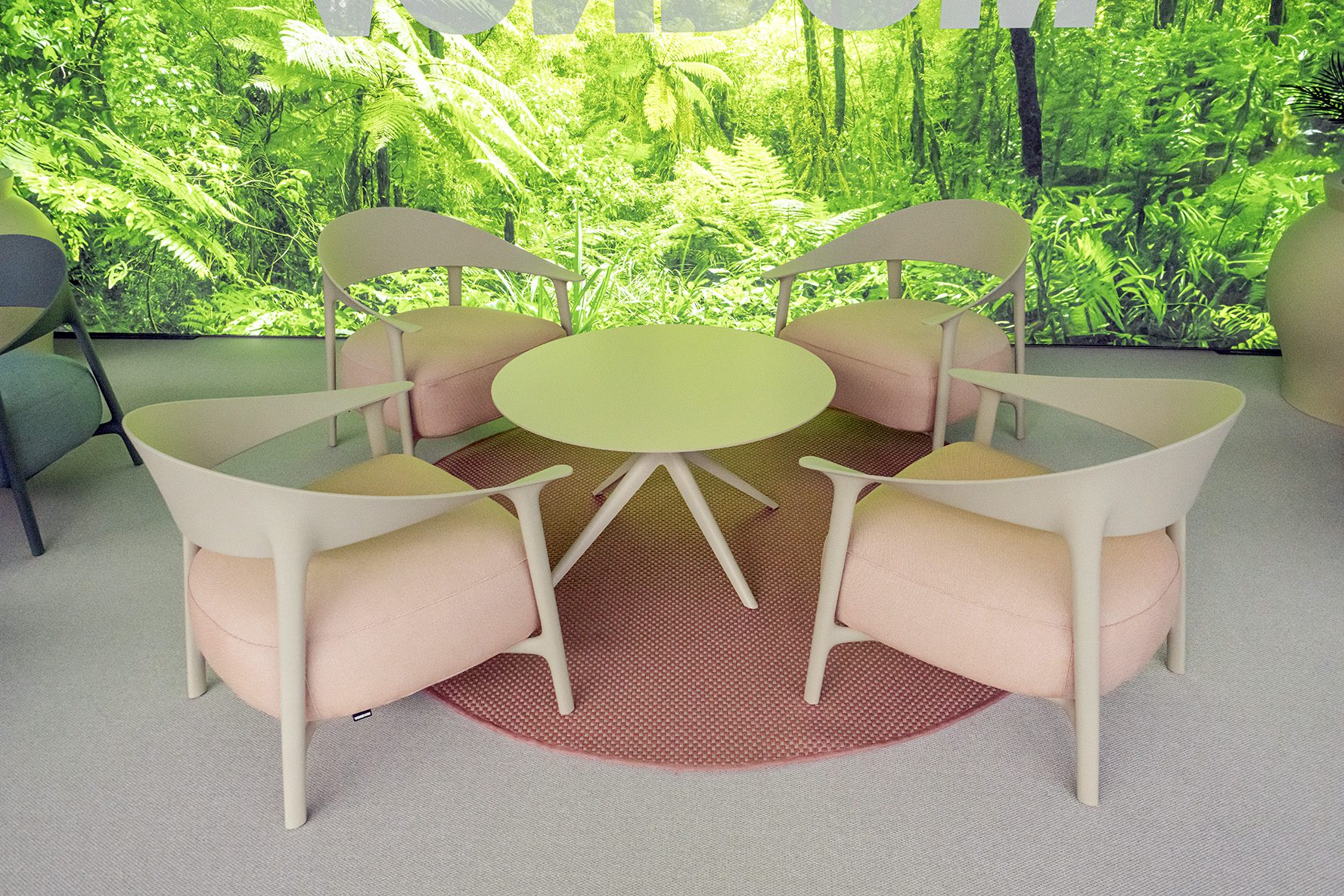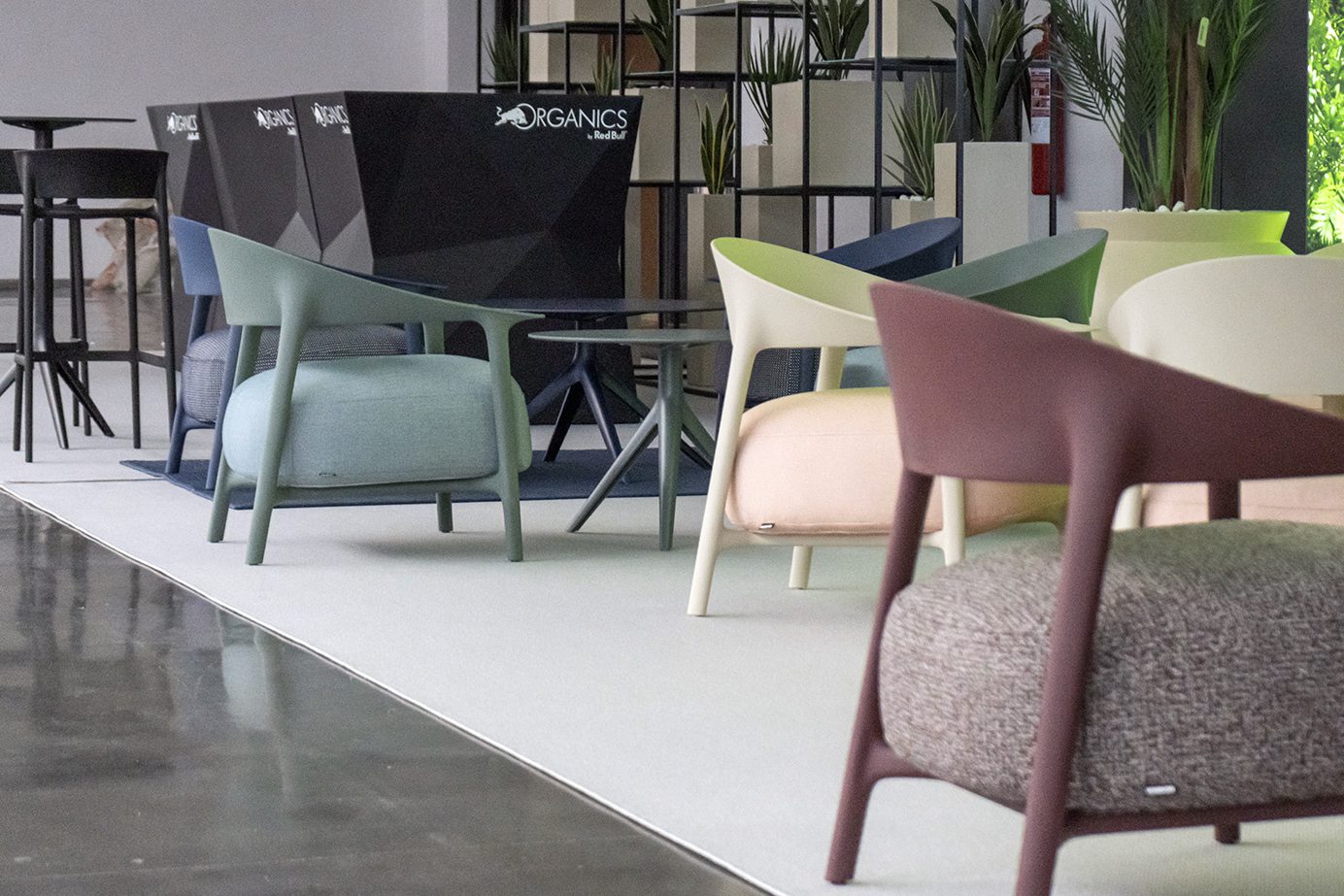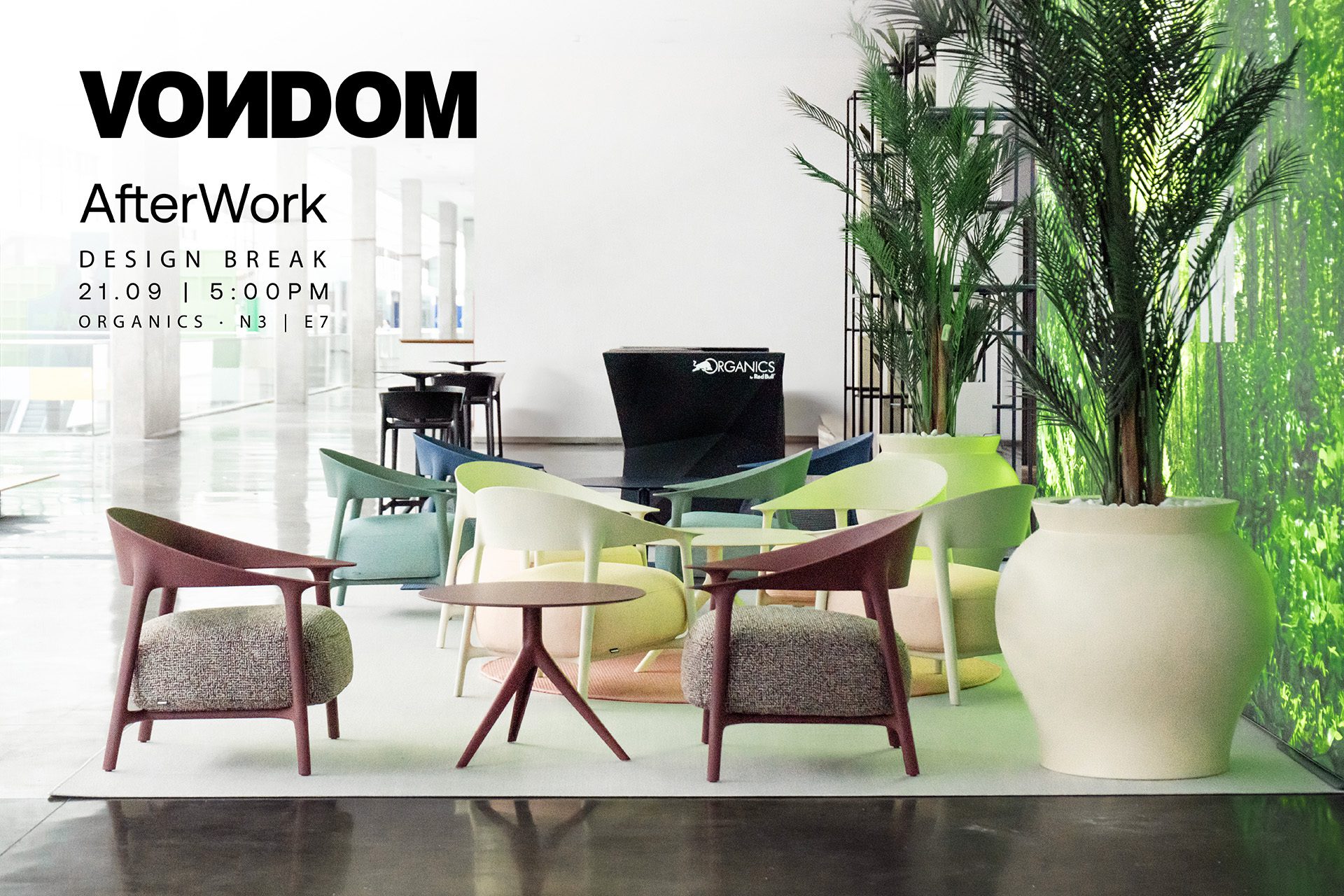 AfterWork: Design Break
And for those who want to live the full experience, Vondom has prepared an AfterWork: Design Break event in this very special space. On 21 September, from 17:00 to 19:00, we invite everyone to relax with live music and disconnect from the hustle and bustle of the fair while enjoying a pleasant atmosphere.
In short, the collaboration between Vondom and Organics by RedBull at Feria Hábitat is an example of how furniture design can transform a space into a unique experience.