The great place to work
The interior design of these Software offices has been designed to create a cheerful environment, full of light and colour; thanks to the selection of modern furniture from the Spanish firm.
Location

Bucharest, Romania

Type

Office

Collection

Africa, And, Fiesta, Ufo, Vases

Interior design

Arkia Creative Home & Spain Touch
As soon as you step foot inside these new offices you'll see modern Vondom furniture. Specifically, the And collection designed by Fabio Novembre, one-of-a-kind avant-garde furniture design that adds exclusivity and elegance to any space.
Continuing through the other rooms in these offices, you'll notice that the interior design has created a workspace that is brimming with light and colour.
And for this purpose, a working environment has been created that thinks outside the box, so much so that, not only is the collection of colours relevant, the modern furniture that equips the office is too.
The Ufo collection, created by Ora Ito, is a perfect example of avant-garde furniture. The set of armchairs and tables was chosen to equip one of the outdoor lounges.
What's more, the Ufo stool and table are also part of Sii Romania's modern furniture. In other words, the stools are part of the cafeteria area and the table is in one of the meeting rooms.
Here, too, the outdoors has inspired the interior design. Our Ufo collection is therefore the perfect choice when it comes to choosing furniture, because Ora Ito was partly inspired by UFOs to design this furniture.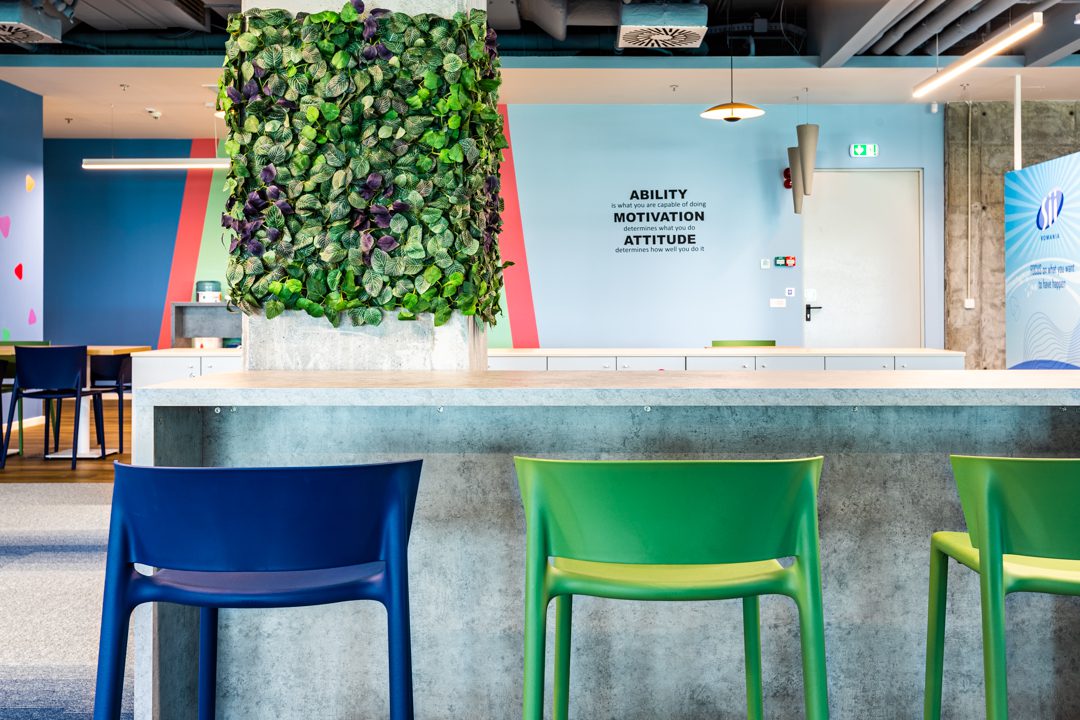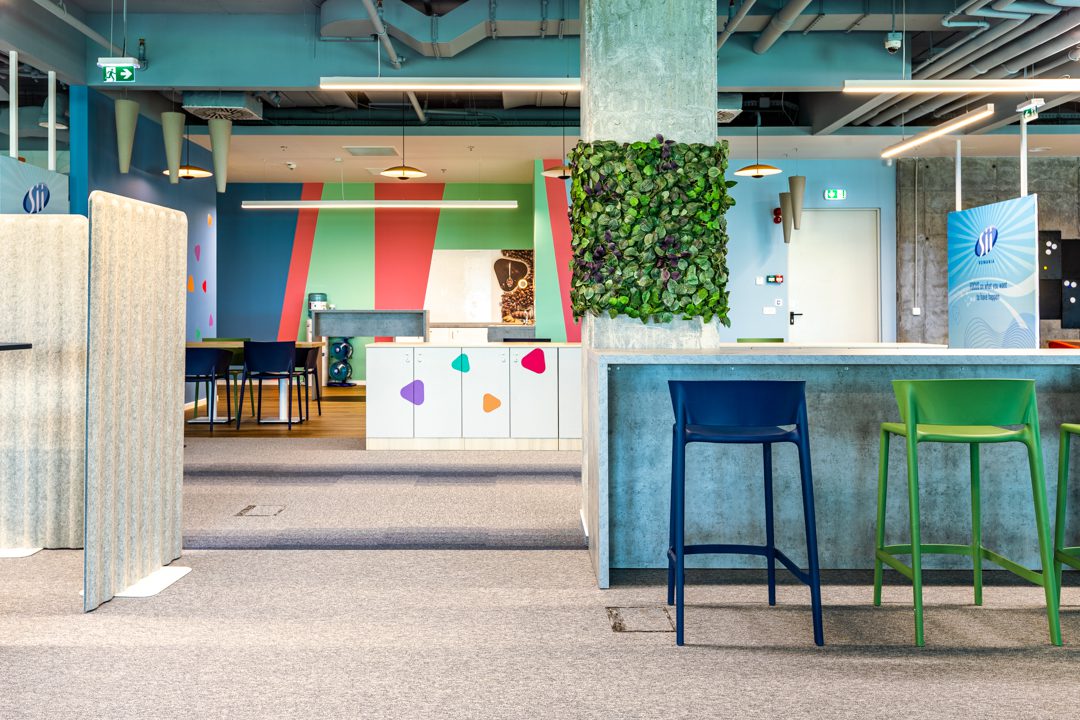 Moving on, in the dining room, our Africa stools and chairs are the contract furniture used to equip this space, making the vibrant colours stand out even more, resulting in a cheerful and fun dining room.
In this way, the emphasis continues to be on modern and fun facilities; which is one of the reasons why they have been certified as an ideal place to work.
These Sii Romania offices are the new facilities of this software company located in One Cotroceni Park. It has a surface area of 3,710 m2 on a single floor, providing its employees with a modern, comfortable and bright space to work in a more pleasant way.
What's more, it has a spectacular 425  square metre terrace where Vondom's modern outdoor furniture is exclusively located.
This space has a wide range of functions: events, informal meetings, relaxation… that's why it has different types of furniture, also including the Ufo collection.
The Fiesta bar, which is located at one end, is the key element to liven up the company's events.
What's more, the  Quartz tables and Africa armchairs  are the minimalist pieces that add a touch of simplicity and modernity to this terrace.
In the centre is the Vases island with a two-fold function: planter and bench, accompanying the Ulm modular sofa, a perfect piece that provides comfort and enough space to sit and relax throughout the working day.
On the terrace, the colours follow the same pattern as in the interior, although here they have opted for brighter colours combined with opaque ones, striking the perfect balance between visual impact and elegance. To sum up, Vondom's modern furniture has given Sii Romania's new offices a modern touch.
¿Estás interesado en este proyecto?
Si deseas recibir más información acerca de este proyecto, puedes contactar con nosotros a través de este formulario.