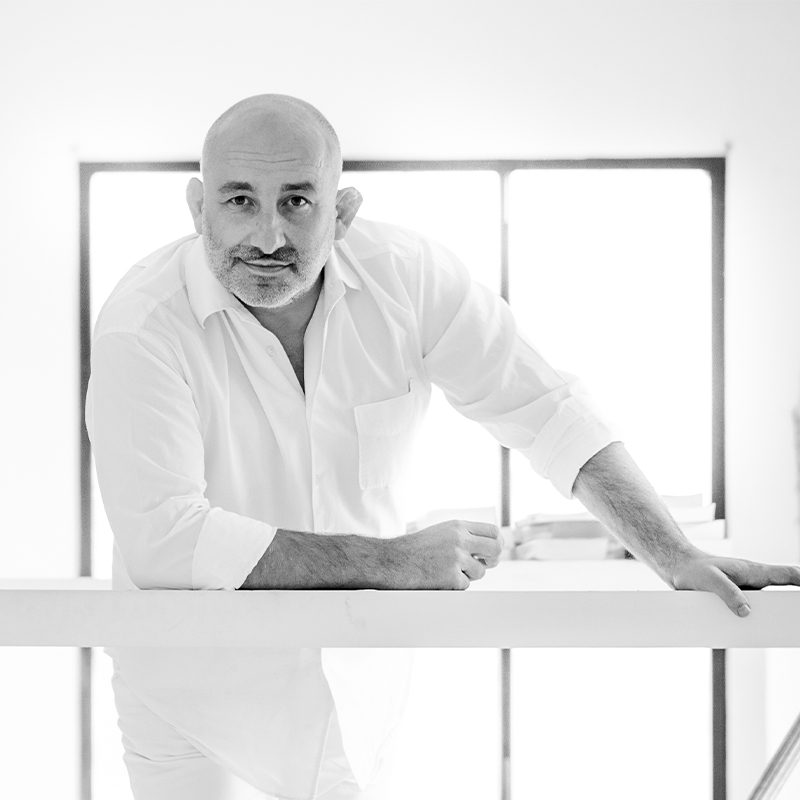 Jean-Marie Massaud
Since the beginning of his career (a 1990 graduate of Paris' ENSCI-Les Ateliers, Paris Design Institute), Jean-Marie Massaud has been working on an extensive range of works, stretching from architecture to objects, from one-off project to serial ones, from macro environment down to micro contexts. Major brands such as Axor, Cassina, Christofle, Poliform, Toyota have solicited his ability to mix comfort and elegance, zeitgeist and heritage, generosity and distinction. Beyond these elegant designs, his quest for lightness – in matters of essence – synthesize three broader stakes: individual and collective fulfillment, economic and industrial efficiency, and environmental concerns. "I'm trying to find an honest, generous path with the idea that, somewhere between the hard economic data, there are users. People."
When did you first hear about Vondom and what did you think of it?
I discover Vondom maybe 7 years ago, a new design player in a outdoor market. The catalogue was an explosion of funky and funable products, but all made in Spain. I felt immediatly this enthusiastic commitment as well as a strong industrial engagement. A great energy maybe too much expresive at that time.
And how do you see our brand today?
Today Vondom more oriented towards a global experience, a more mature company, of course. But still with this enthusiastic and entrepeneur energy, freedom and vitality.
Which piece from another Vondom designer do you like?
I like very much the Africa armchair from Eugeni Quitllet, as well as the Vineyard Collection from Ramón Esteve.
To find out more about Jean-Marie Massaud, we want to know more about you. What is your favourite song?
My favourite song is maybe David Bowie's collaboration on Nina Simone's song Wild is the wind. Good one!
And your favourite film?
I give you two tips. One is "Gattaca" from Andrew Niccol, and the onther one is "The Legend of 1900" from Giuseppe Tornatore.