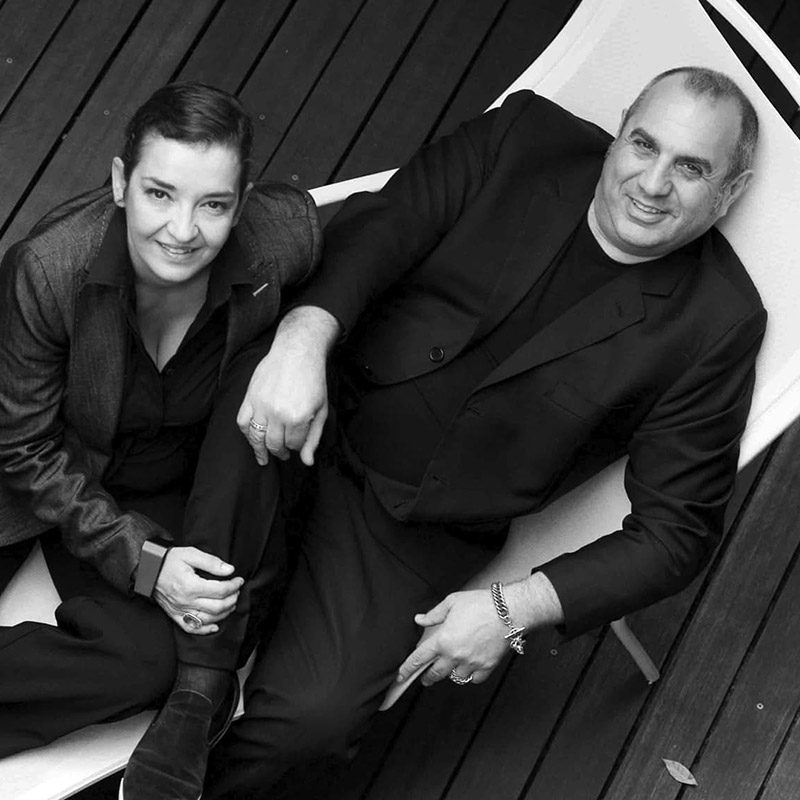 Stefano Giovannoni & Elisa Gargan
Stefano Giovanoni, architect, industrial and interior designer, lives and works in milan. He works as industrial designer designing many iconic best sellers and commercially succesful products. Elisa Gargan, industrial and interior designer, is Stefano's partner and wife. Elisa & Stefano working together for many famous companies.
Who really are you?
_ Two designers, partners in work and life.
What do you think of when you hear the word plastic?
_Plastic is a material we really like, because as the word itself suggests it gives us the opportunity to create shapses and concepts that it is hard to do with other materials.
What is your favourite colour?
_We both love green. Stefano loves acid green, Elisa prefers emerald green.
Which Vondom item from another designer would you put in your home?
_Besides our products that we have in our terrace, we think that there are many other interesting items but we may need more than one house to put them all in.
What do you prefer, classic or science fiction movies?
_We love old science-fiction movies, such as Blade Runner, Metropolis, Brazil 2001 – A Space Odyssey. But also Quentin Tarantino and new Italian film producers, such as Matteo Garrone, Paulo Sorrentino and Paulo Virzi.
Do you have any fetich object?
_We have too many to list them all.
What was the last thing you bought?
_Stefano always used to buy music, Hi-Fi CDs and vinyls. Recently he bought antiques from Korea and Elisa bought some coloured glass vases from the fifties, designed by Archimede Seguso.
Do you believe in perfection?
_It's an abstract idea, but it's the goal for any product.
Do you have any fixation or quirky habit?
_Stefano is a perfectionist, he has a lot of quirky habits, especially to do with music and his Hi-Fi. Elisa doens't have many, she likes classic glasses and tablecloths. For both of us our goal is to prepare perfect dishes.
What do you do when you are not designing?
_We love cooking and going fishing.