Vondom has now moved and from our new installations we plan many of our main actions , one of these would be to offer all design lovers our avant-garde furniture.
Vondom is a Spanish company specialising in avant-garde designer avant-garde furniture, suitable for indoor and outdoor spaces alike. A company that is firmly committed to innovation, advanced technology and sustainability with a view to building a better future.
Since its beginnings, the brand has been producing its unique pieces from its facilities in the province of Valencia, Spain. Previously in El Palomar, it has now moved to its new headquarters in Beneixida, 40 km from the city of Valencia.
The new facility is three times larger than the previous one, with a total of 65,000 m2. This is down to the firm business strategy that guides every aspect of the company: design, production, quality, marketing and promotion. In particular, the ongoing commitment to R+D+i, as well as the professionalism of our team, customers, suppliers and partners, who have created excellent synergies for this exciting project.
"Less is more", is the minimalist concept behind the new Vondom offices. Open spaces, neutral colours, pure and straight lines, shedding the limelight on the employees to focus on boosting individual efficiency and productivity above all else.
This architectural work has a total of 1,470 m2 split over two floors. The lower floor (642 m2), houses the reception and the lounge, where visitors can enjoy the comfort and elegance of the sofas from the Tablet collection designed by Ramón Esteve while they arze waiting.
Behind the reception is the large dining room, where employees can enjoy exquisite catering at lunch time. The Frame tables designed by Ramón Esteve and the Love chairs designed by Eugeni Quitllet have been installed in this space. In the break area, the Pixel modular sofa has been placed along with the tables from the same collection.
The bathrooms on this floor have large showers for those who do sport before or after work or even at lunch time. The different meeting rooms are equipped with all kinds of technological accessories, as well as Frame tables and Faz chairs.
At the top of a modern staircase is the upper floor (735 m2) where the different departments are spread out. On the one hand, the R+D+i department where our engineers develop the creations of our design masters, turning their sketches into real, authentic pieces.
In order to foster fluid communication and to ensure greater visibility, the other departments: marketing, sales, IT, administration and finance, are located in a single, open and uncluttered room. The different workstations are organised in such a way that each employee has their own privacy yet, at the same time, can communicate freely with their colleagues, as the dividing elements are minimal and therefore there is no visual contamination.
Communication between the interior room, the corridors and the cafeteria takes place through large glass surfaces, which allows for visual contact between the different spaces.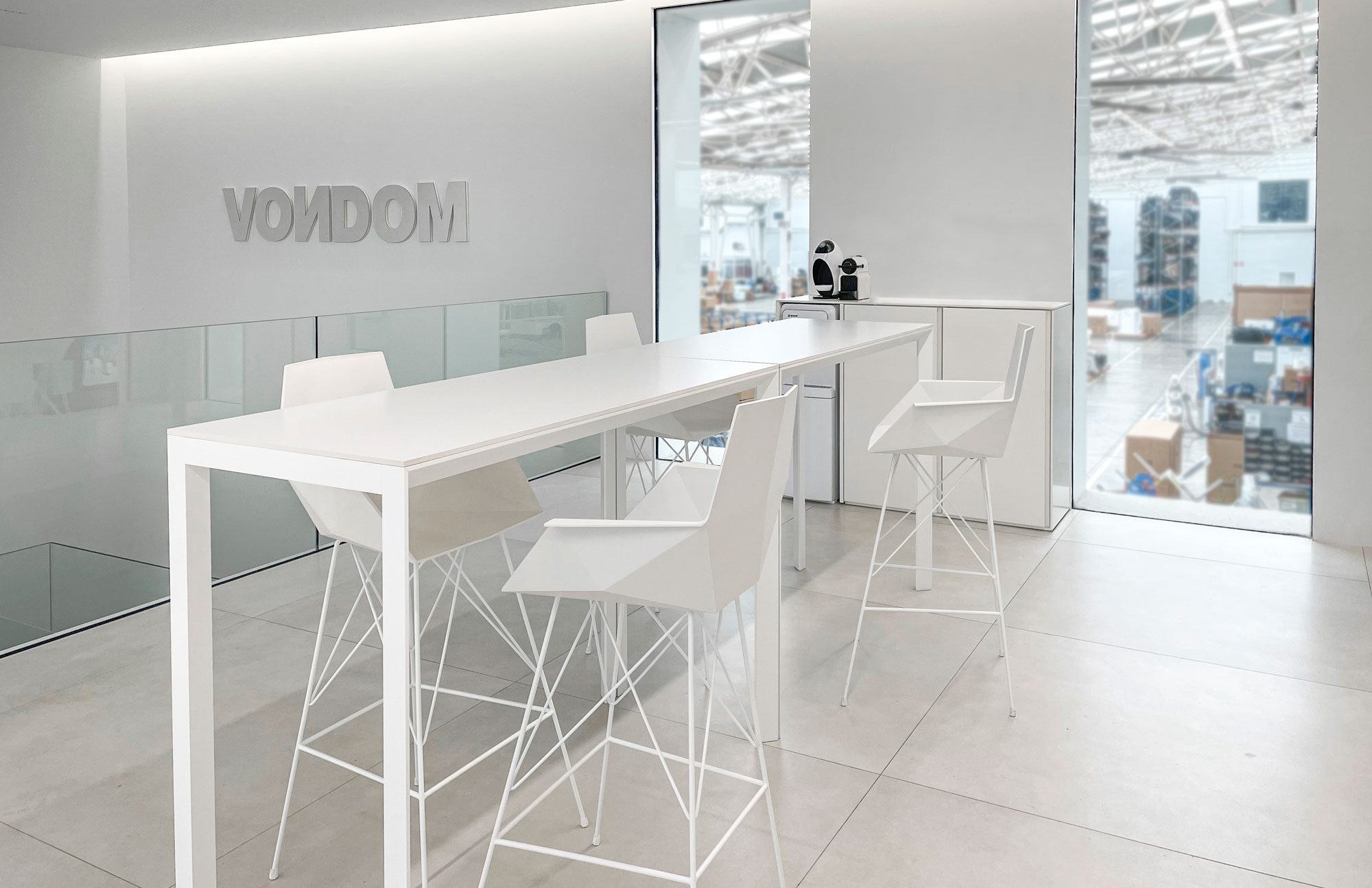 Faz stools and Frame high tables provide an informal space for staff or visitors. While sipping on a nice coffee and having a pleasant conversation, they can look out the large windows into the various areas of the production plant.
At the end of the corridor, in a quieter and more discreet area, are the management offices and different meeting rooms.
The entire plant is fitted with large windows to make the most of natural light, making it as bright as possible. It also contributes to energy saving.
That is why we also have a "Smart" home automation system. Innovative technology that allows us to smartly control climate control, door opening and closing, sun protection and lighting.
White is everywhere in the rooms, simulating a laboratory where all the ideas, strategies and creations are formed and which, when passed through the next phases, result in Vondom's avant-garde furniture.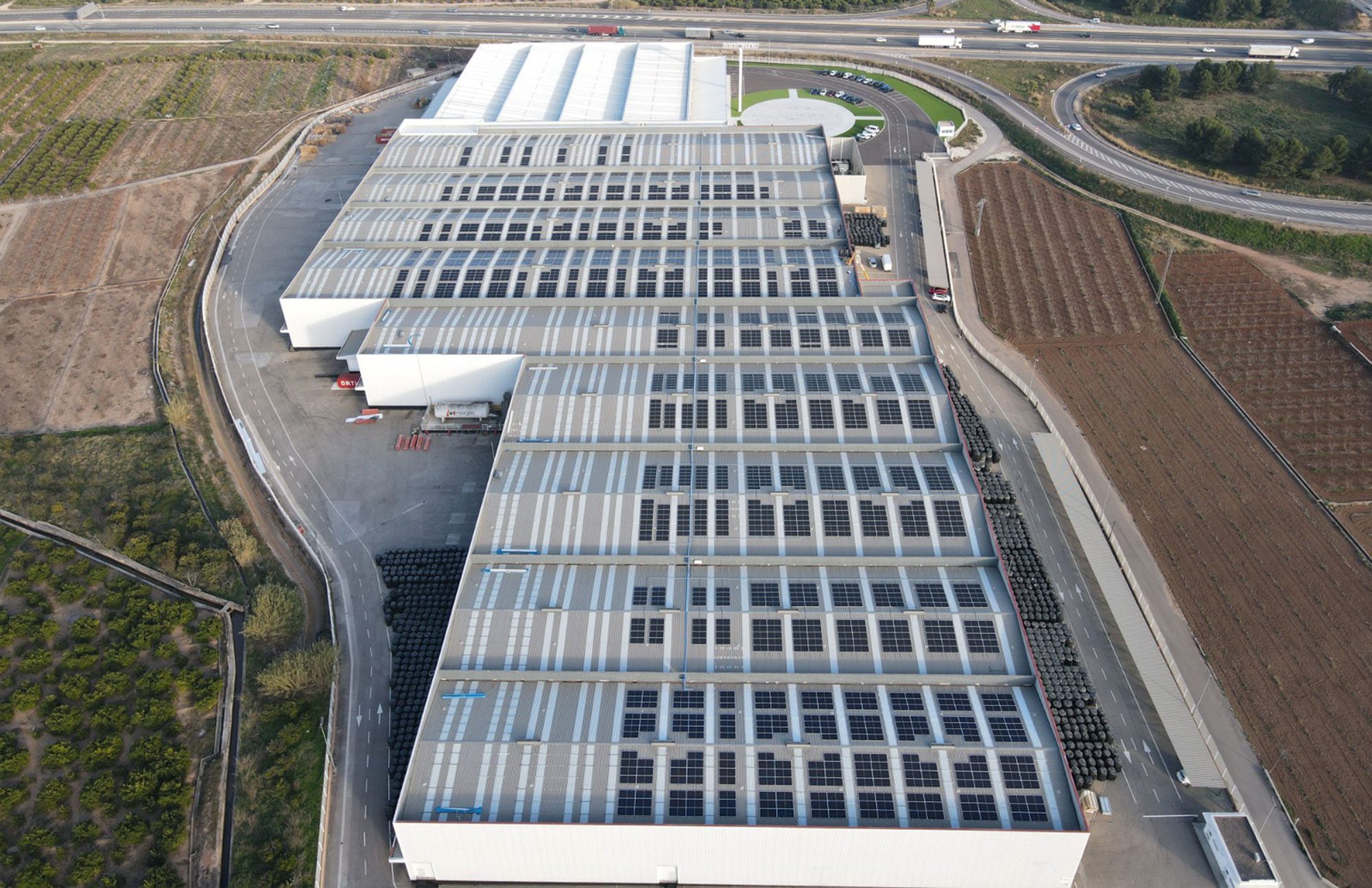 Our commitment to a sustainable future implemented through our Vondom Revolution philosophy, is based not only on manufacturing avant-garde furniture from recycled material, but also on green packaging, the integrative approach and sustainable manufacturing.
We have now expanded it by installing photovoltaic solar energy for self-consumption, with 990 KW of power. In this way, we can supply the electricity used in production and offices in a much more sustainable way. Managed by iReSoL, designer of this photovoltaic installation capable of producing 1,429,998 KWh per year, which will prevent approximately 908,895 Kgs of CO2 emissions into the atmosphere, which would be equivalent to Vondom planting roughly 60,000 trees.
Constant improvement is in our DNA and our new facilities are a great example of this; of modern architecture where spaces have been meticulously designed to provide the perfect place to work, collaborate, create and dream.
Moreover, Vondom opens its doors to anyone interested in learning about our products, our philosophy, our know-how or to contribute to our design culture. You're more than welcome!