A dream villa
In this residential project, we can clearly see how our illuminated outdoor furniture becomes an essential element to create exceptional and stylish environments.
Location

Algarve, Portugal

Type

Residential

Interior Designer

Sara Made My Home

Collections

Faz, Pixel, Rest, Vela
A residential project with our illuminated outdoor furniture
At Vondom we have always stood out for fusing design, innovation and functionality in our outdoor furniture. Each collection is carefully designed to bring a unique and versatile style to outdoor spaces.
In this new project our products have found their perfect home: a spectacular luxury villa located in the Algarve, Portugal. The most striking feature of this project is that all our outdoor furniture from the Faz, Pixel, Vela and Rest collections, designed by Ramón Esteve and A-Cero, are illuminated to create a magical atmosphere and highlight its essence.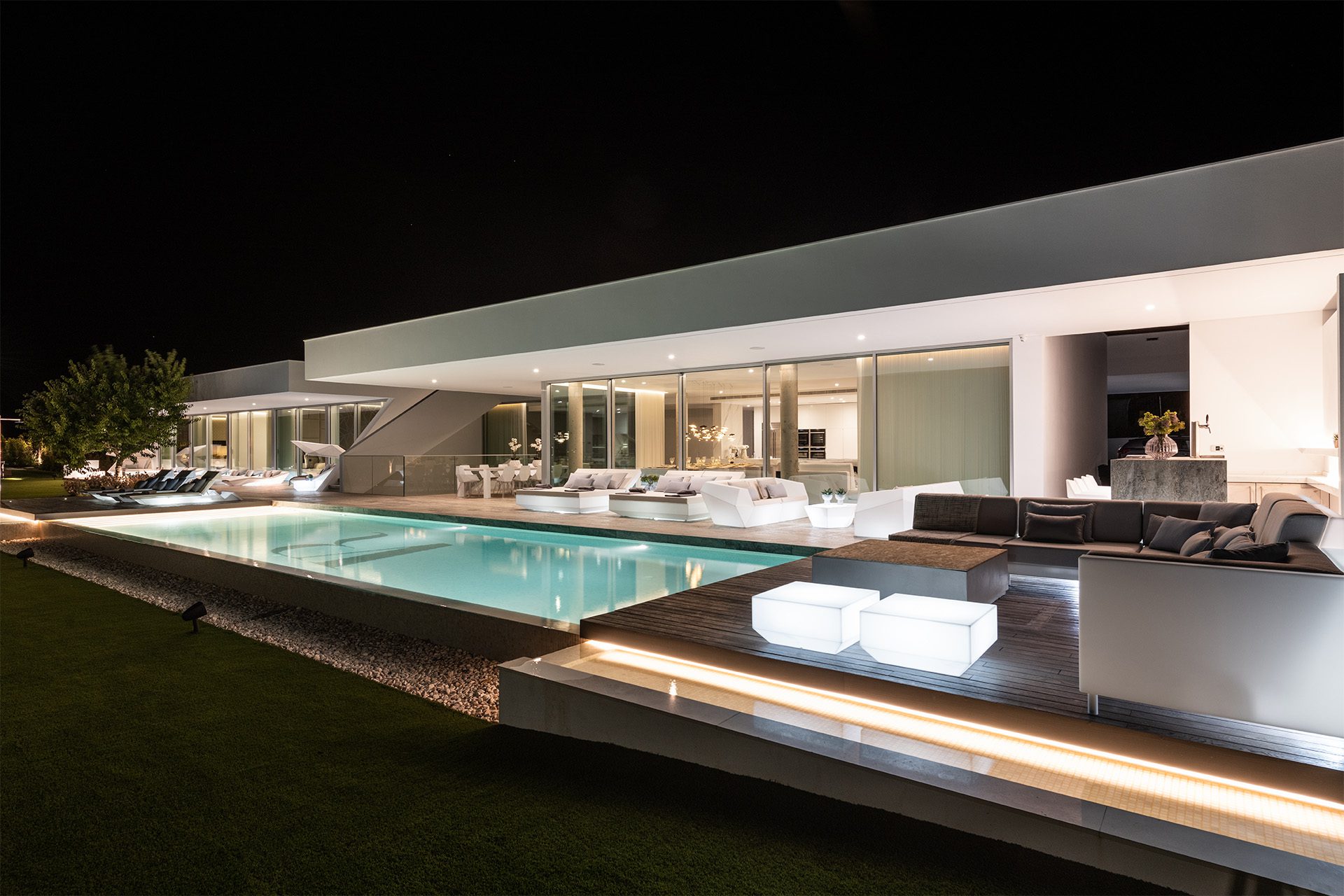 The Faz Collection, known for its elegance and sophistication, is present in this villa with its sun loungers, daybeds, chairs and a modular sofa together with armchairs and side tables. The avant-garde style of this illuminated outdoor furniture and its geometric shapes blend harmoniously with the surroundings, creating spaces for rest and relaxation with great visual impact.
On the other hand, the Vela Collection, known for its minimalist and timeless design, brings a touch of refinement with its daybeds and side tables. These pieces bring a sense of tranquillity and comfort, inviting you to enjoy unforgettable moments outdoors.
The Pixel Collection designed by Ramón Esteve, characterised by its versatility and originality with its low seating, presents its modular sofa with legs included in this dream villa. Its innovative modular structure allows the creation of customised compositions, adapting to the needs and tastes of the users. Undoubtedly, an ideal choice for those looking for a unique and contemporary style.
Finally, the Rest Collection, designed by A-Cero, completes the proposal with its elegant sun loungers. With soft lines and a sophisticated aesthetic, these pieces provide an incomparable space for rest and relaxation. Their ergonomic design and high quality materials guarantee an exceptional experience of comfort.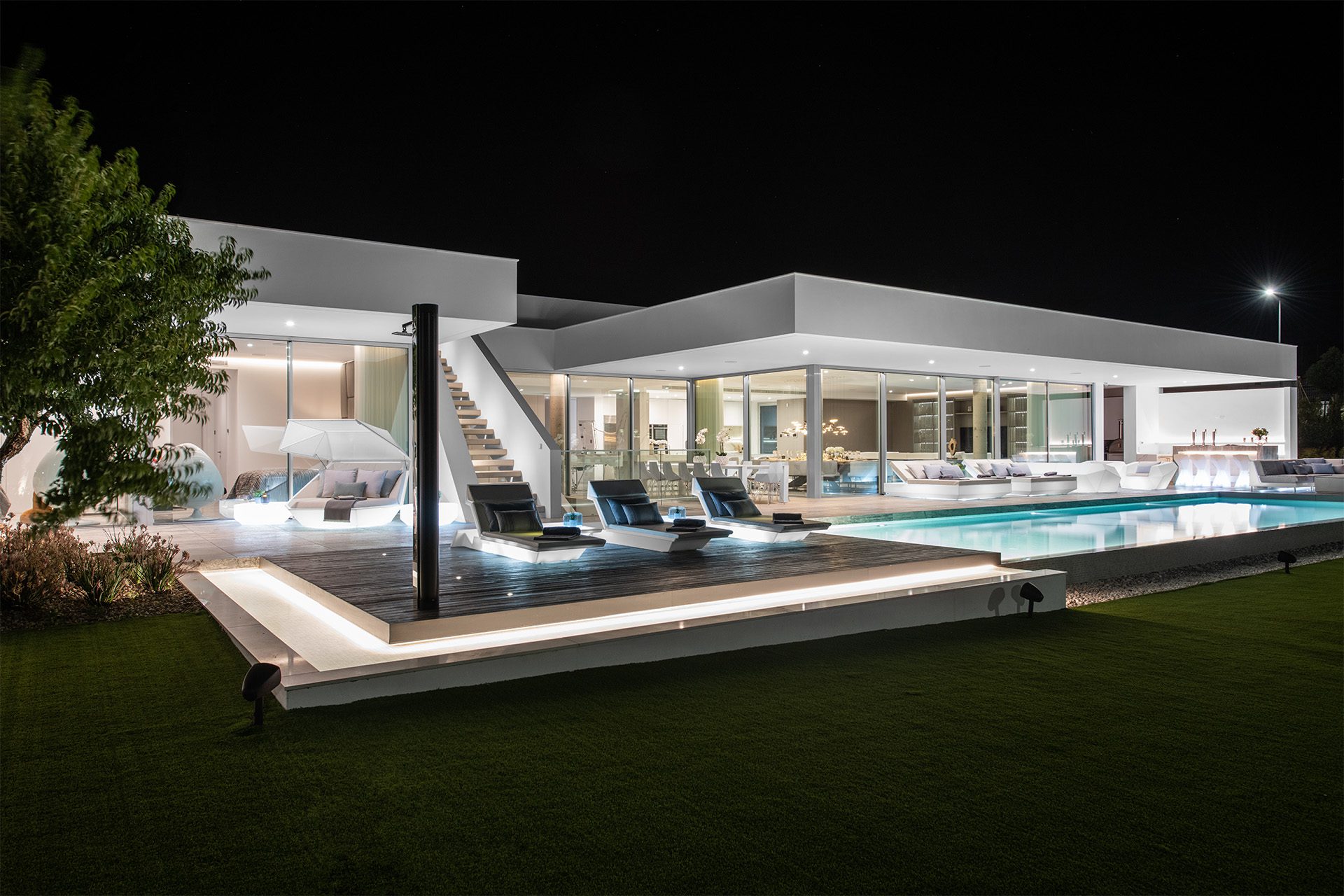 In this project, interior design studio Sara Made my Home chose to highlight the beauty of our outdoor furniture collections through lighting. The photographs captured during the night show how the strategically placed lighting enhances every detail and creates an enveloping atmosphere. The play of light and shadow highlights the contours and elegance of our furniture, providing a visually stunning and captivating experience.
At Vondom, we understand the importance of creating spaces that integrate harmoniously with their surroundings. In this luxury villa in the Algarve, our illuminated outdoor furniture takes centre stage and complements the natural beauty of the location. Its clean lines, high quality materials and impeccable finishes fit perfectly into the context, offering an unparalleled aesthetic and functional experience.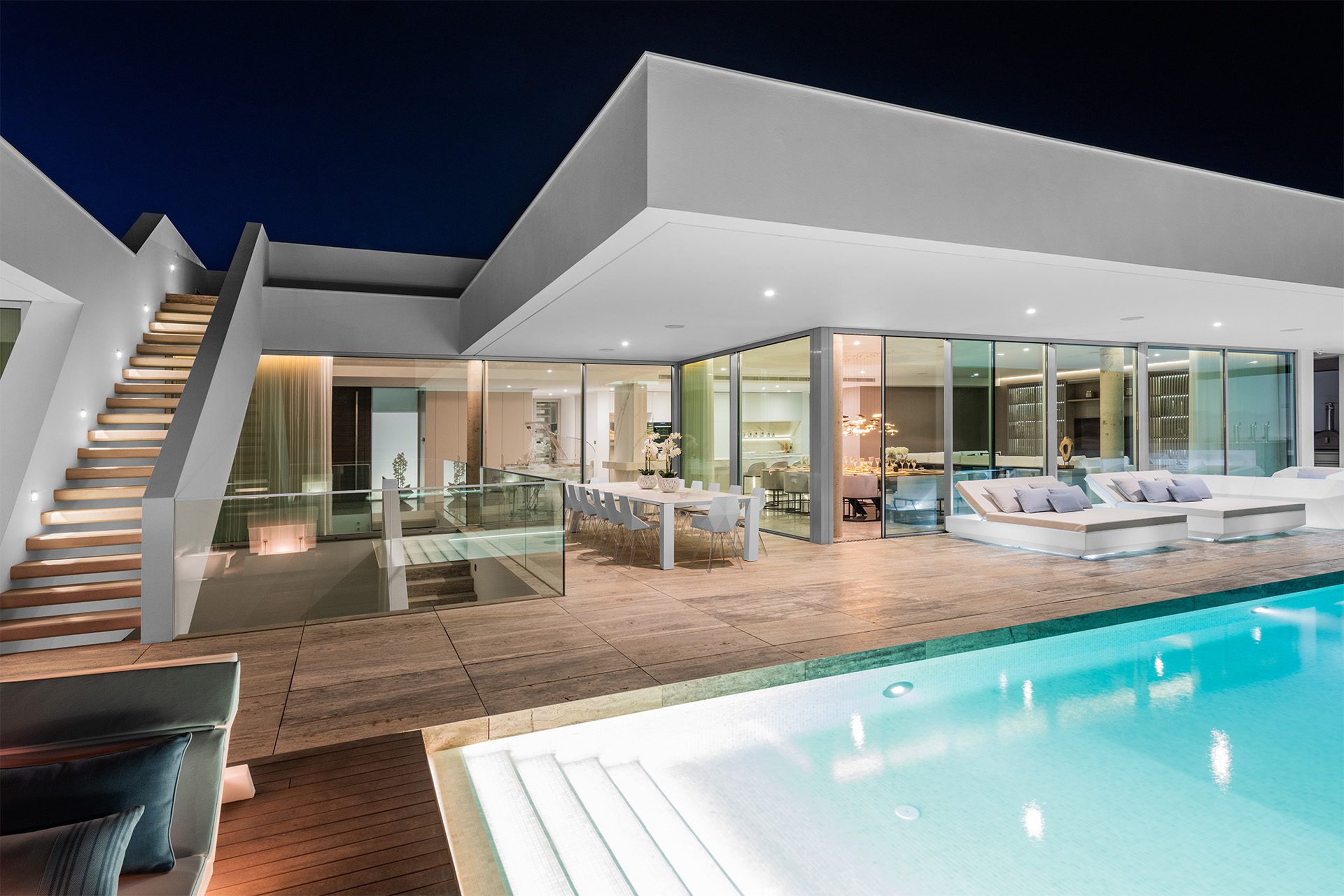 The project of this luxury villa in the Algarve is a clear example of how our illuminated outdoor furniture becomes key pieces to create exceptional and stylish environments. The Faz, Pixel, Vela and Rest collections, designed by Ramón Esteve and A-Cero, have been carefully selected to bring comfort, elegance and durability to this dream environment.
The strategic lighting in our furniture adds a magical touch to every corner, highlighting the beauty of each piece. At Vondom, we continue to innovate and create unique experiences for those looking to make the most of their outdoor spaces.
Interested in this project?
If you wish to receive more information about this project, you can contact us through this form.