Mediterranean design and luxury
A unique and welcoming Mediterranean space where architecture and design come together with Vondom furniture of exceptional elegance.
Location

Santorini, Grecia

Type

Hotel

Interior design

Decostore Zorzos

Collections

Africa, Ibiza, Mari-Sol, Spritz
Apricus Suites Perussa, located on the beautiful island of Santorini, Greece, is a testament to how architecture and design can come together to create a truly unique and welcoming space. Inspired by the idyllic Mediterranean essence, the hotel dazzles with its beige walls and architecture that evokes the traditional elegance of the country.
The interior design has been meticulously crafted by the talented team at Decostore Zorzos. They have masterfully blended elements from different Vondom furniture collections, providing an undeniable touch of modernity and sophistication. Every corner of the hotel exudes a sense of luxury and comfort, with a careful selection of furniture and accessories that blend harmoniously into their surroundings.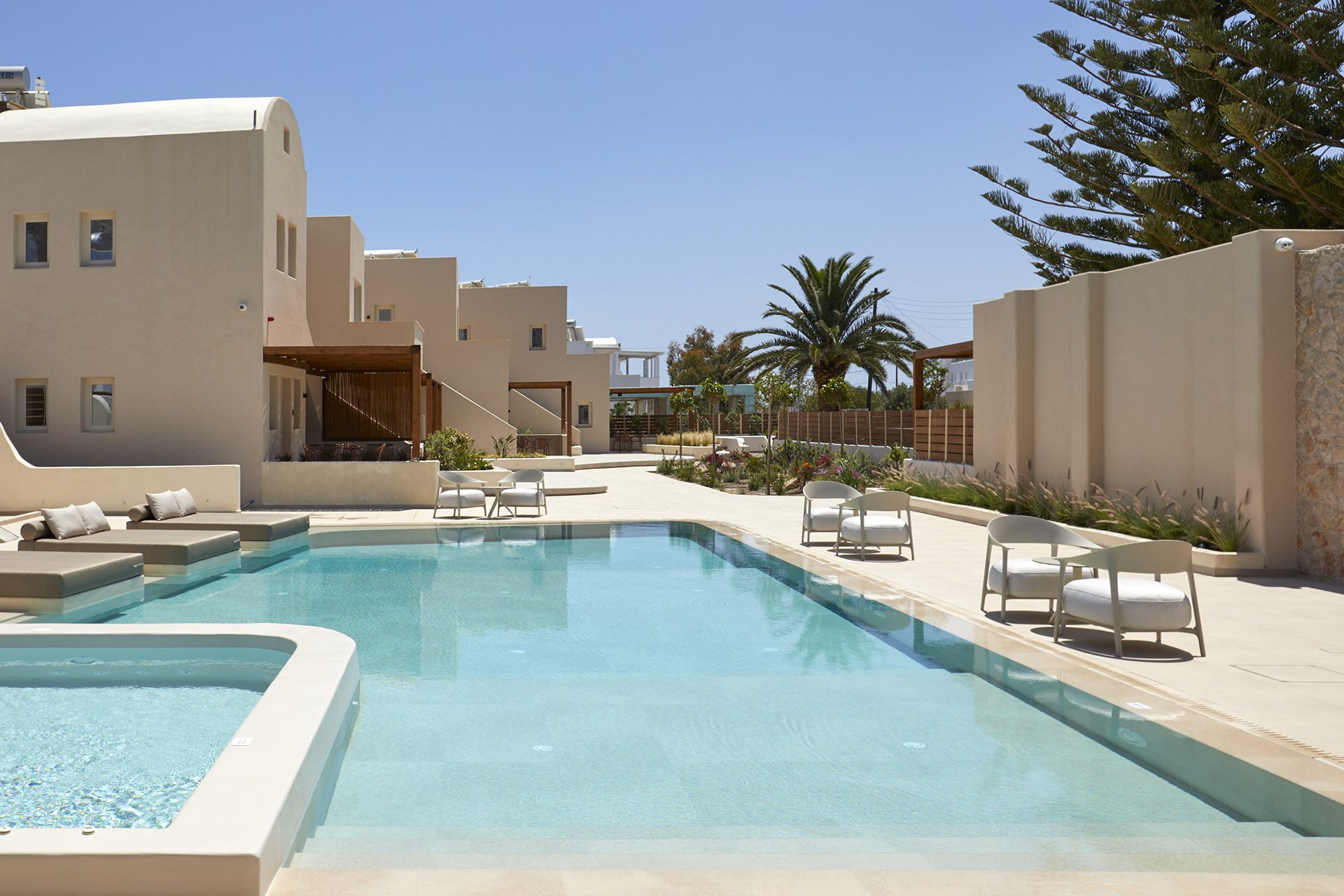 Vondom furniture: an oasis of relaxation and style around the swimming pool
The communal areas offer a cosy and relaxed atmosphere. Around the pool, three exquisite collections designed by the talented Eugeni Quitllet are displayed.
Firstly, the Ibiza sun loungers, with their Mediterranean design, invite you to immerse yourself in a world of relaxation and enjoyment under the radiant sun. Also in harmony with them are the Spritz sun lounger tables, designed by the renowned Archirivolto Design studio. These sets in Ecru add a fresh and elegant touch to the ambience, completing the scene in a sublime way.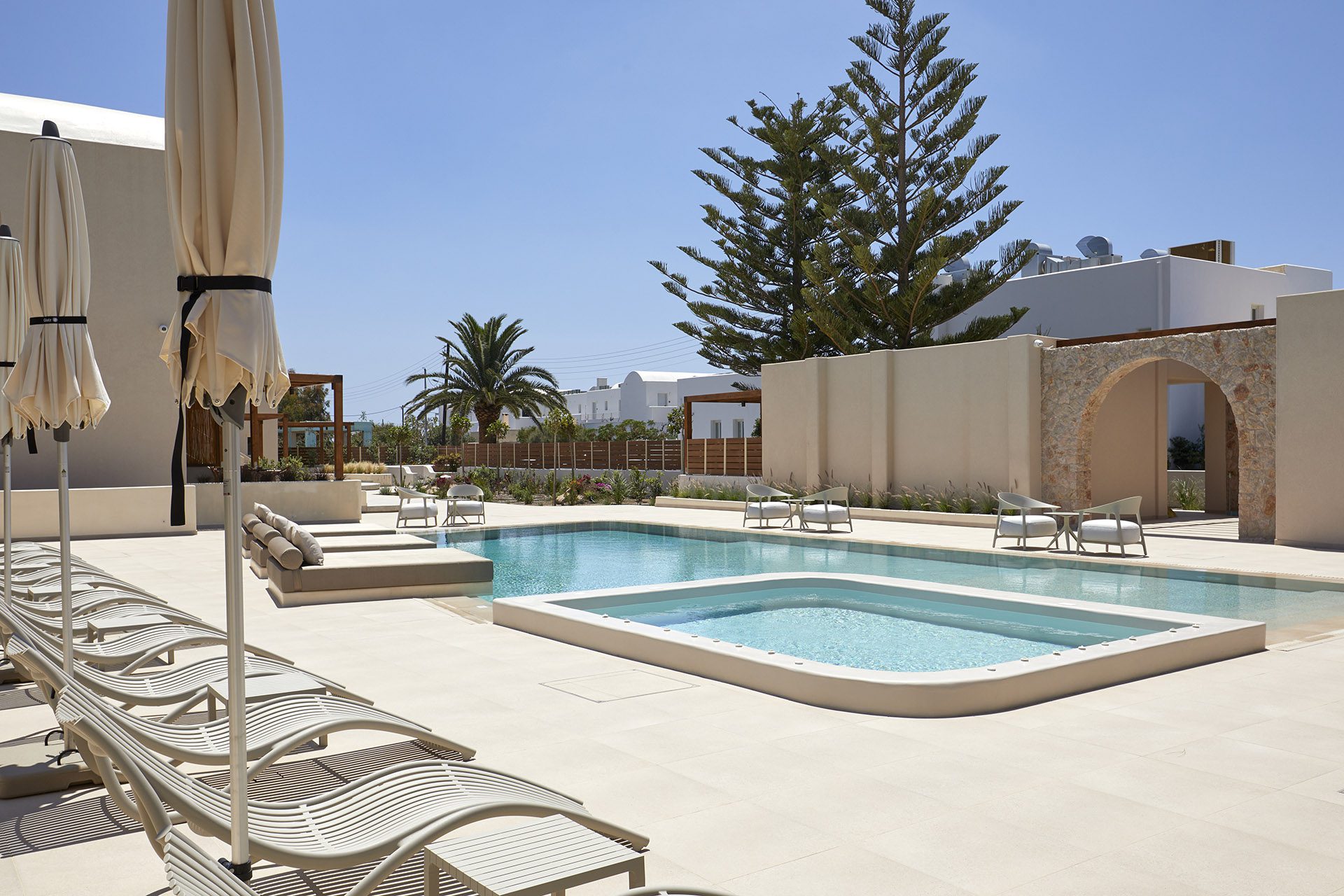 Continuing with Eugeni Quitllet's collections, the Africa lounge chairs stand out, which are one of the novelties presented last year at Salone del Mobile. And are being a success in sales during this 2023 thanks to their design. Their soft, sensual curves provide the perfect combination of style and comfort, offering an ideal place to enjoy outdoor dining.
On the other hand, the Mari-Sol tables, with their elegance and functionality, become perfect companions to the Africa lounge chairs. To hold drinks and snacks while enjoying the surroundings.
Beneath the porch and strategically located behind the pool, an inviting space is revealed where elegant Africa chairs and stools take centre stage, accompanied by an additional set of Mari-Sol tables. This corner becomes a perfect retreat from the sun and a perfect place to enjoy a snack, while fully enjoying your stay at the hotel.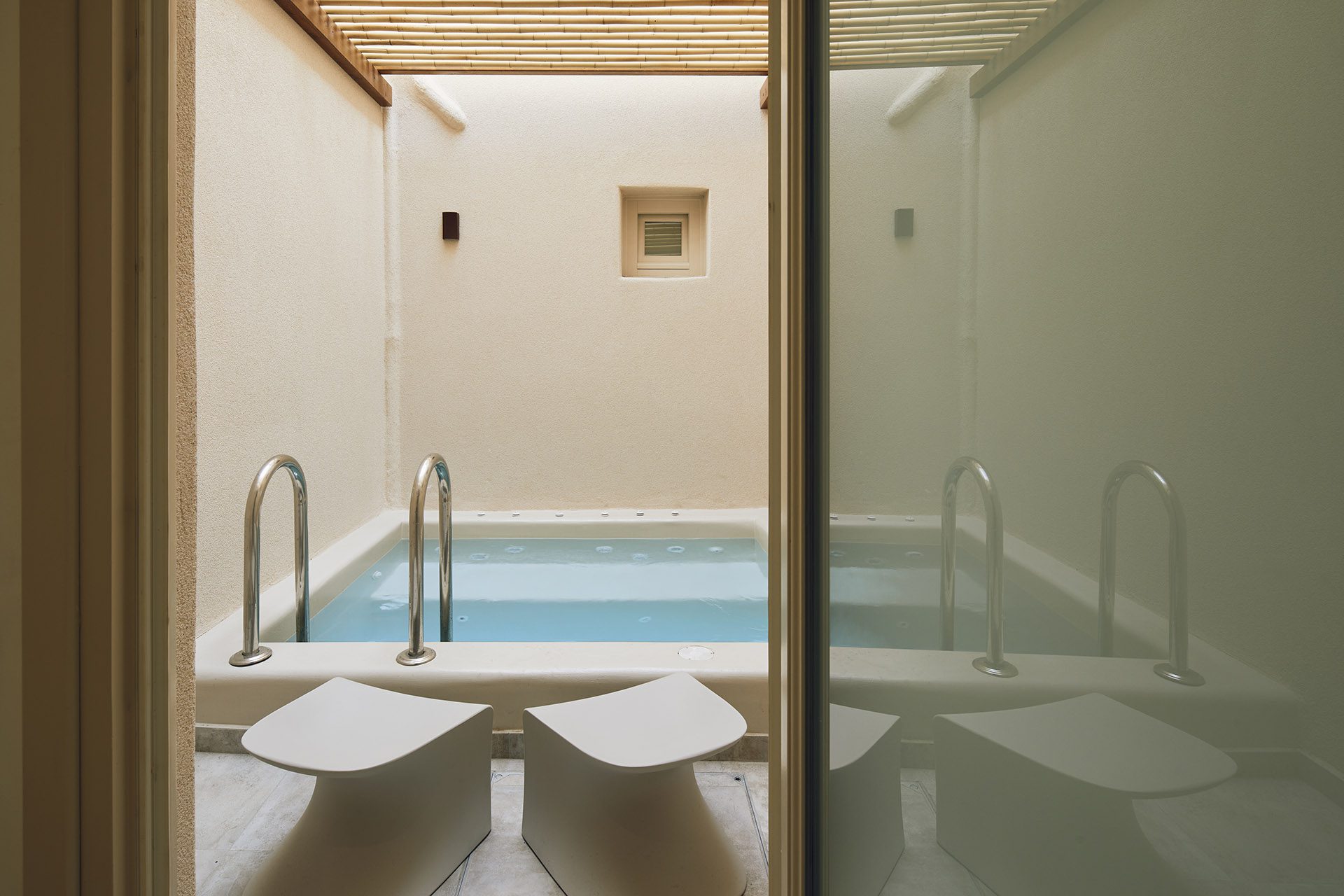 Finally, in the luxurious suites with Jacuzzi, the distinctive touch is provided by the Wing low stools, a creation of the prestigious A-Cero. With their minimalist design, these stools are the perfect choice to relax and fully enjoy the experience.
Apricus is an example of how architecture, design and Vondom furniture can create a unique and welcoming space. And it is not just a place to stay, but a true haven of delight and wonder, where every detail has been thought of to offer its visitors a stay that exceeds all expectations.
Surrounded by the unparalleled beauty of Santorini, this is the perfect destination to relax, unwind and immerse yourself in the charm of architecture and design merging with the surrounding nature.
Interested in this project?
If you wish to receive more information about this project, you can contact us through this form.