At Vondom we want to talk about modern offices to guide you to know how to prepare an interior design minimalist, modern and exclusive.
Modern offices
At Vondom we want to guide you towards an ideally interior designed office that boasts a touch of exclusivity. The office has traditionally always been our second home, although currently, for some, our home has become our modern office. It is therefore important that we know how to decorate this space, to make the working day more productive and enjoyable.
Offices are made up of many different spaces where different tasks are performed, but at the same time it is possible to conduct these tasks; since workplaces are now designed in such a way that it is possible to work, think, create, interact, and have fun in all office spaces.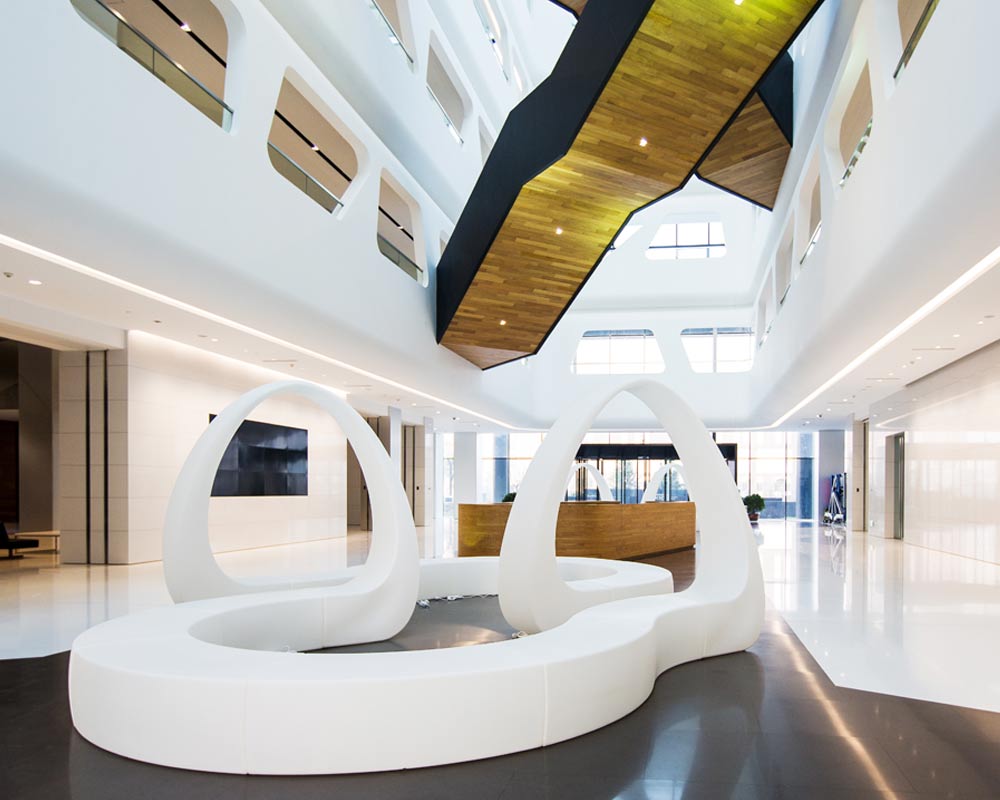 The reception is a place that welcomes visitors, suppliers and even the workers themselves. It is the first impression that people receive on entering the building, which is why the furniture and decoration of this area must have a great visual impact.
This is the case here, with the modular Vela sofa designed by Ramón Esteve being the element that stands out for its straight and simple lines, making it a minimalist and sophisticated piece of furniture.
The sofa and armchair from the Blow collection designed by Stefano Giovannoni have been combined with the Bum Bum central table by Eugeni Quitllet. A magnificent example that confirms the possibility of composing a waiting room with different elements that result in a modern style mixed with other sober elements.
Meetings are essential for teamwork and the generation of ideas and are usually held in rooms with a large table surrounded by chairs. As we see in the Lenovo offices, where we see that they have selected our Delta chairs designed by Jorge Pensi. This is a piece with simple lines that have resulted in a design with its own identity conceived to coexist in contemporary spaces.
Here we see another example in which the creation of Eugeni Quitllet, the Africa armchair, has been arranged in this room providing elegance, modernity, and simplicity. It is a design created to be with your tribe!
An essential space in modern offices are cafeterias. This space resembles the kitchen of a house, it is the place where everything important happens or is discussed. It is not the size of a kitchen that matters, but the furniture that is arranged there. Vondom contract furniture is an excellent option! The tables and chairs in our catalogue have an avant-garde design that transforms any environment into an exclusive atmosphere and helps to break away from uniformity while providing comfort and style.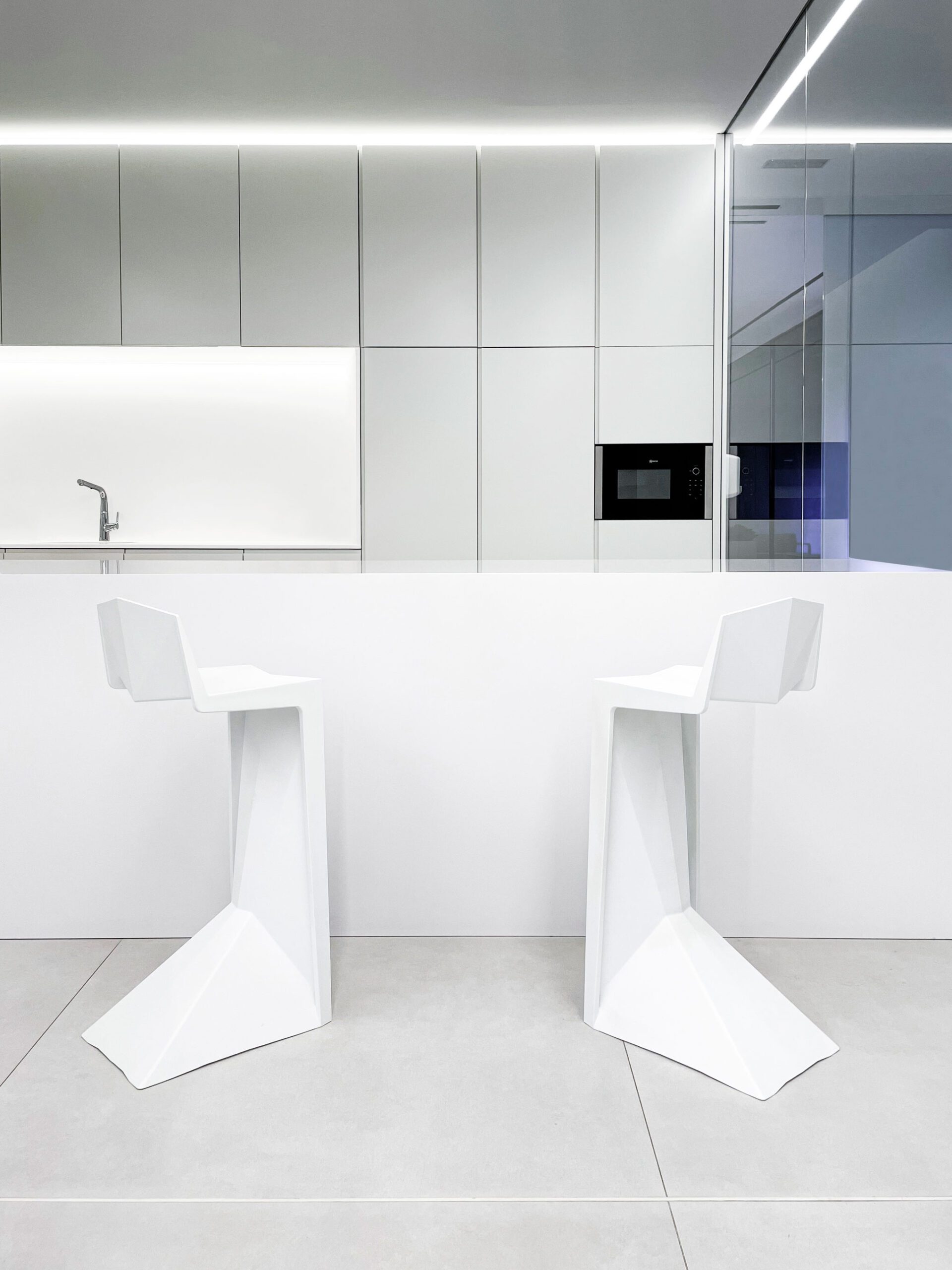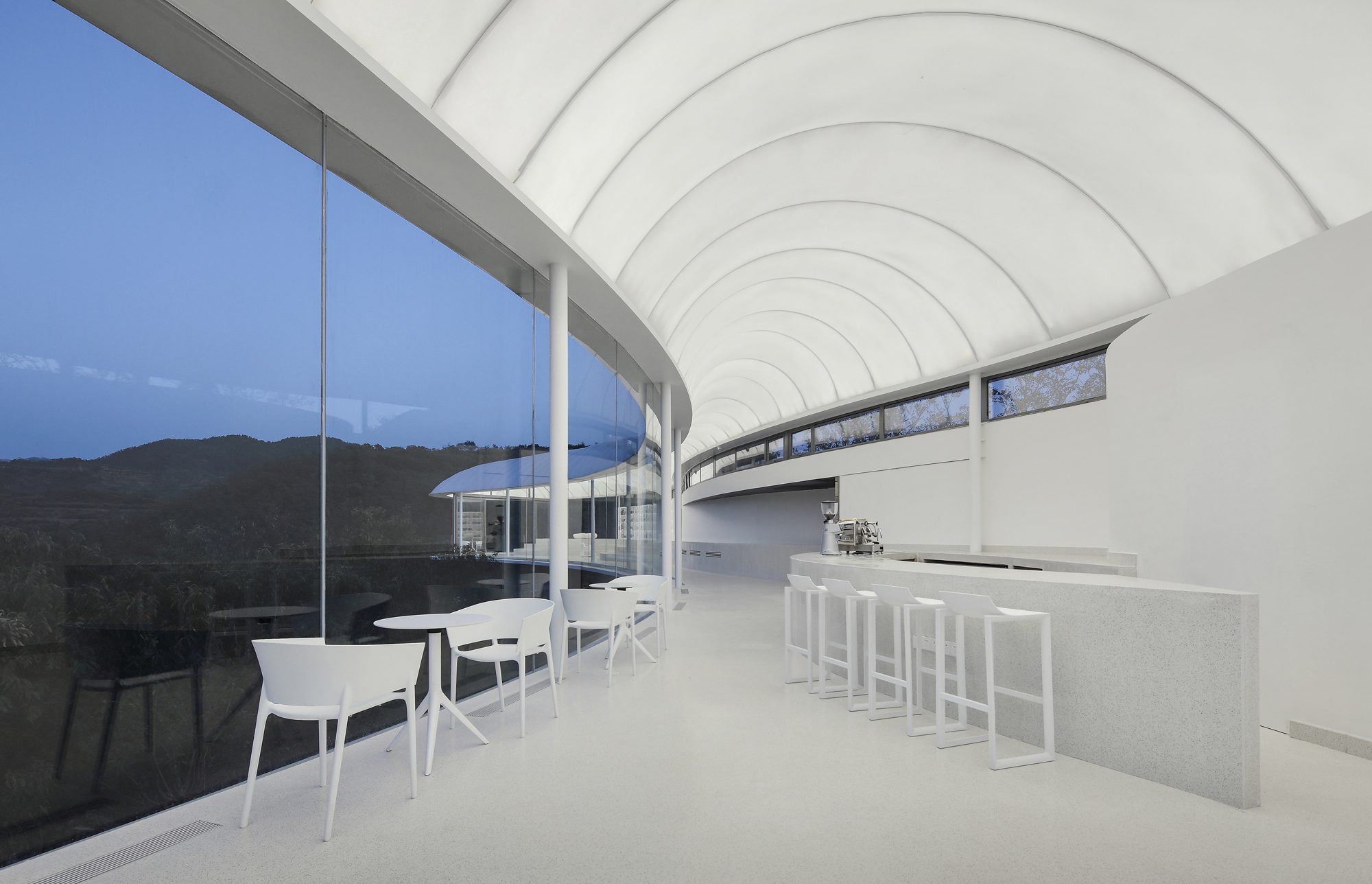 Rest is necessary to be more productive. The 52/17 rule guides us to work 52 minutes and then rest for 17. It is therefore essential that there are areas in the modern office where employees can relax, unwind, and have a snack. Depending on the space available, this area can be indoors or outdoors, and the furniture will be selected accordingly. At Vondom we have several examples of rest areas.
The rest area inside this office has been fitted with the Ulm daybed, designed by Ramon Esteve. It is an ideal piece of furniture to take a short nap or read a book while you rest your mind during the working day.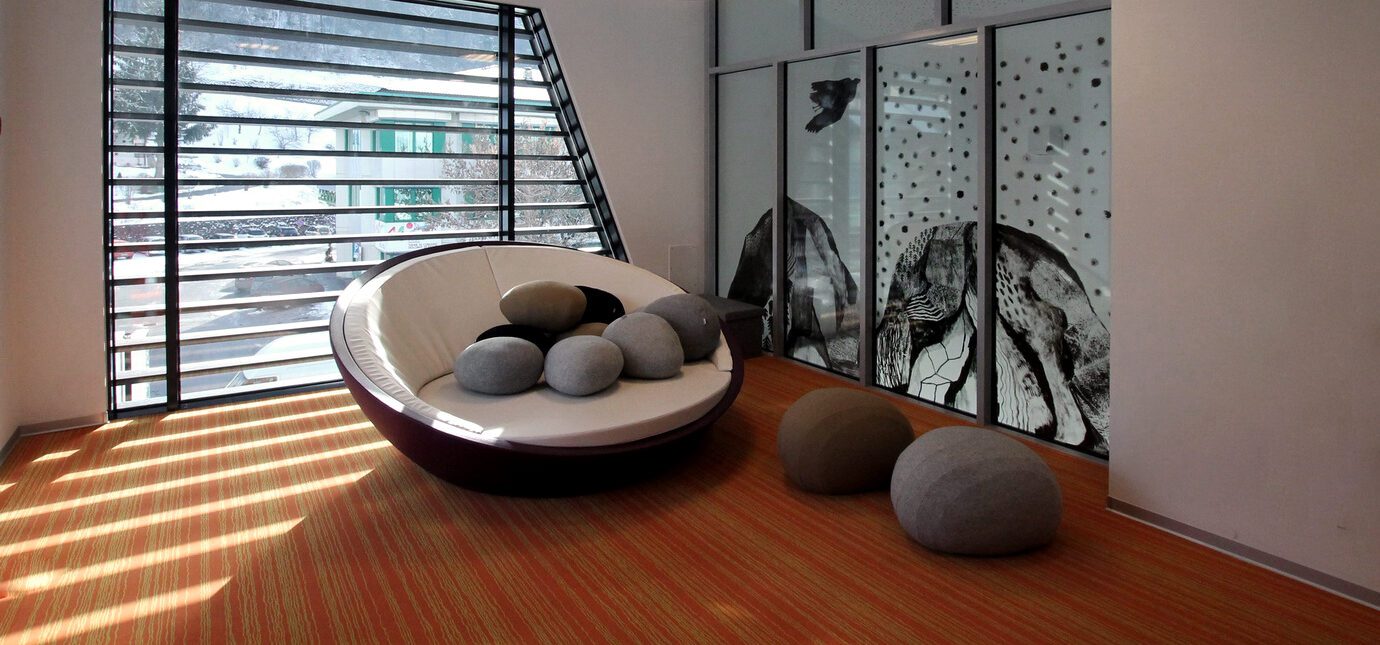 Many of the offices in Silicon Valley, where the big tech companies are located, have playgrounds for employees. According to neuroscientist Jung-Beeman, playing at work from time to time is highly recommended because having fun activates a certain part of the brain (the anterior cingulate cortex), that is the same one that is activated when you have great ideas. In this area, they have incorporated our Adan stool, designed by Teresa Sapey, and the Roulette chair, designed by Eero Aarnio. Two ideal elements to entertain and provide a touch of positivism.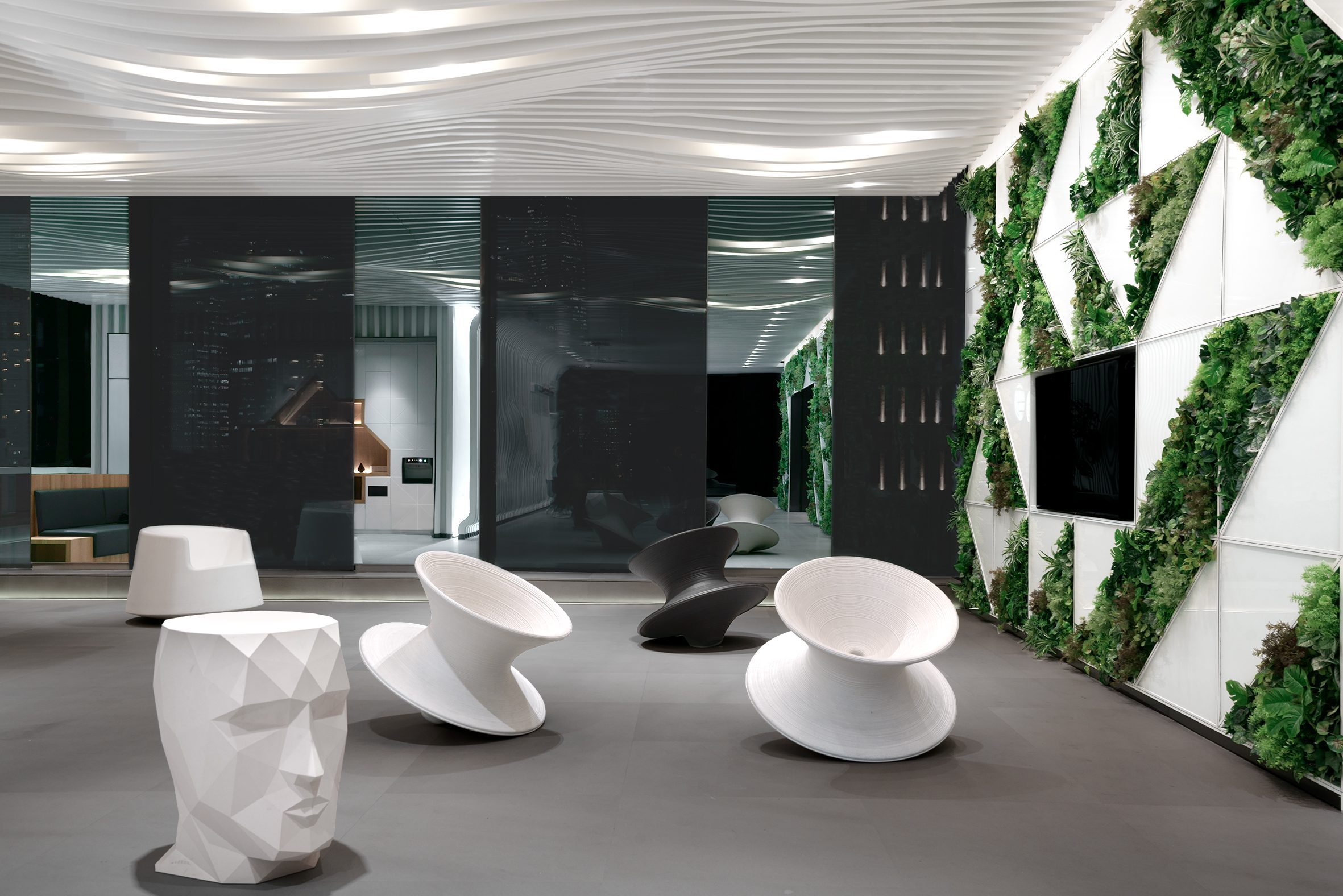 Las oficinas de BoZhong, compañía especializada en el sector metalúrgico, ha tenido en cuanta la temática del área en la que se ubican los muebles de vondom. En este caso, es el "espacio" donde se pretende que el empleado se sienta como un astronauta. Es la principal razón por la que los interioristas han seleccionado el mobiliario de la colección Ufo creada por Ora Ïto: sofá, butaca y mesa auxiliar; diseños que son el resultado de "experimentos de mutación genética" entre los lenguajes icónicos de pagodas y ovnis.
The modern offices of BoZhong, a company specialised in the metallurgical sector, have considered the theme of the area in which Vondom furniture is located. In this case, it is "space", where the employee is intended to feel like an astronaut. This is the main reason the interior designers have selected the furniture from the UFO collection created by Ora Ïto: sofa, armchair and side table; designs that are the result of "genetic transformations" between the iconic styles ​​of pagodas and UFOs.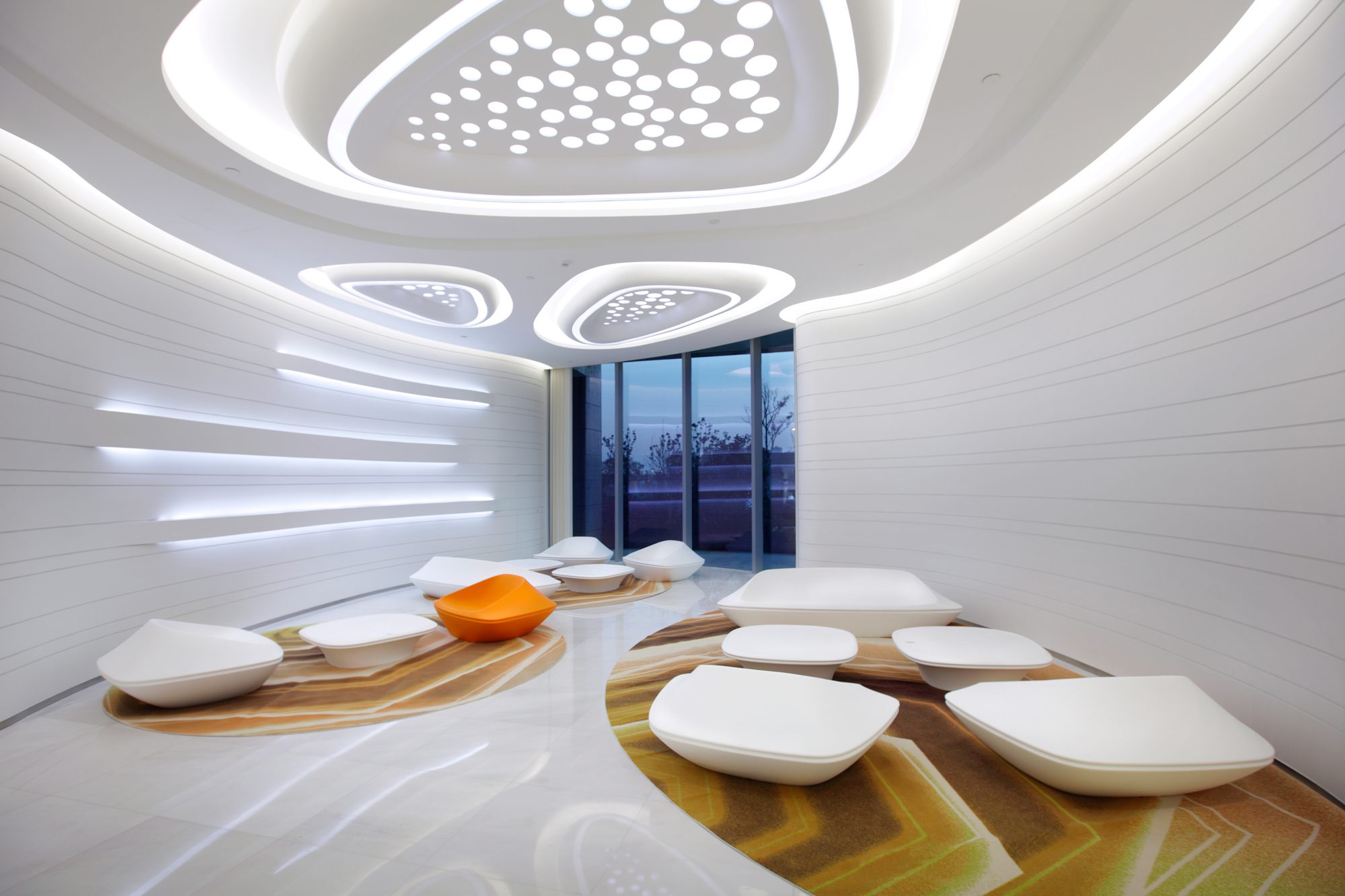 Outdoor rest areas are the most in demand, since they help to get fresh air, enjoy the sun and are ideal places to improve interpersonal relationships. These Colombian offices have opted for the Bum Bum and Stones sofa sets, designed by Eugeni Quitllet and Stefano Giovannoni, respectively.
Last but not least, it is essential that offices consider plants for decoration. The colour green helps us generate more ideas, helping workers to be in a better mood, more active, and more inspired.
In many workspaces, planters are used as dividing elements.
In many other modern offices, Vondom planters are decorative elements that provide design, warmth and even well-being.
Curvilinear, straight, round, rectangular, faceted… various planters make up the green catalogue. A great ally for professionals who want to decorate their offices with plants and help reduce the stress of workers.
In short, Vondom design pieces provide a unique aesthetic to create modern offices with a touch of exclusivity and help improve productivity and maintain good spirits in the workforce.
Here more corporate projects