At Vondom, we always strive to take innovation and aesthetics to the next level. That's why we are excited to present our newly refurbished showroom inside our facilities in Beneixida, València.
A renovated space of inspiration
This new space, which opened on 21 September, encompasses 1,700 square metres of design and creativity, and represents the evolution of our vision of warmth and sustainability that we have been promoting since 2022, with the introduction of new materials, such as wood.
In this showroom, we have fused the beauty of nature with the avant-garde of design, turning this space into a world of elegance and originality. One of the highlights of this new space is the use of wooden slats as room dividers, creating a warm and welcoming atmosphere that aligns perfectly with our vision of sustainable design.
Two floors, two experiences
Our new showroom, totalling 1,700m2, is divided into two distinct floors, each with its own charm and purpose.
The first floor
The ground floor, covering 950m2, welcomes us with the collections Tulum, designed by Eugeni Quitllet, Suave by Marcel Wanders and Tablet by Ramón Esteve.
Next, we find different sets of five polyethylene collections: Frame, by Ramón Esteve, in khaki; Pal and Surf, by Karim Rashid, in navy; Pezzettina, by Stefano Giovannoni, in lacquered anthracite finish; Blow, by the same designer, in lacquered cream; and Stone, also by Giovannoni, in ecru.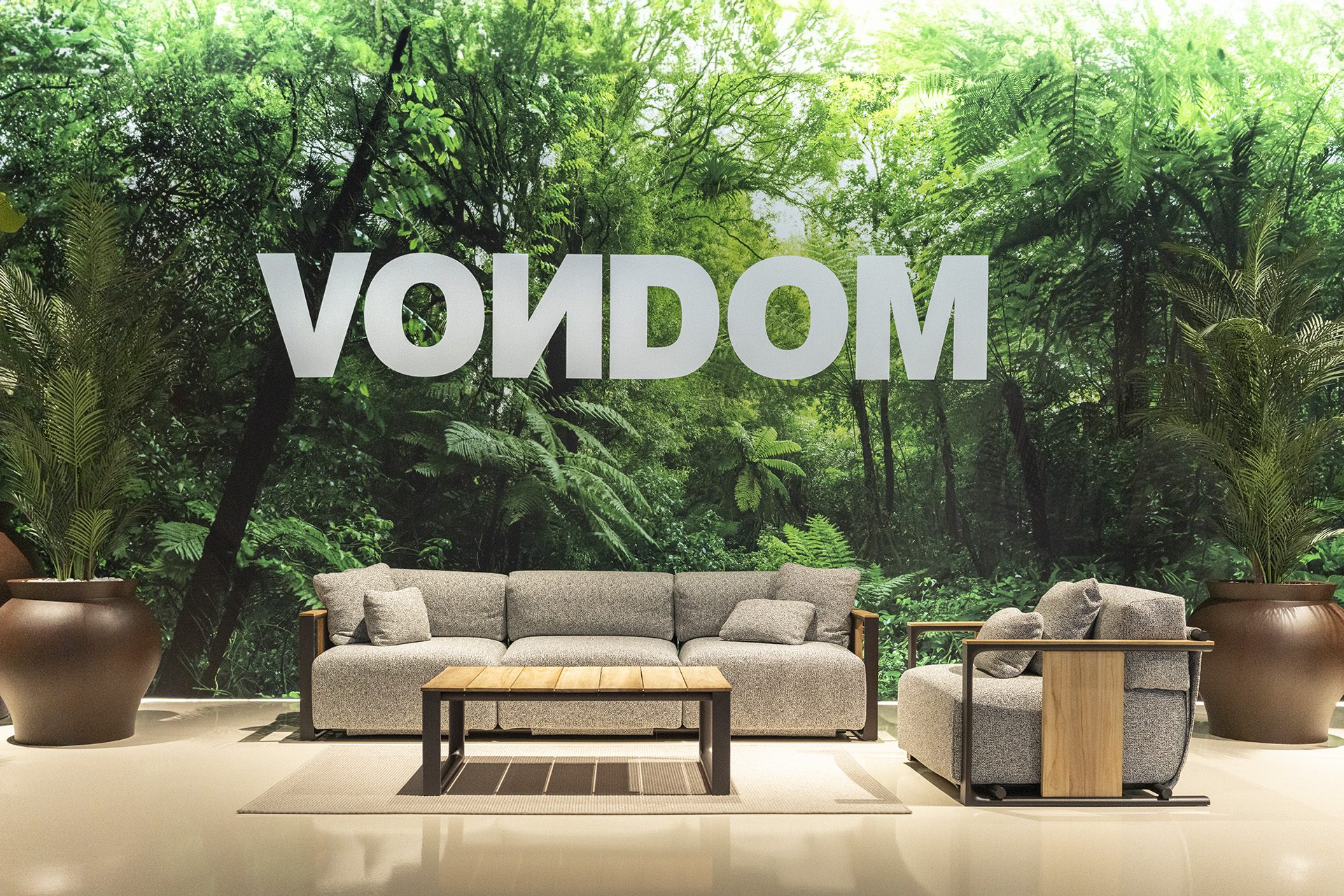 Tulum Collection, by Eugeni Quitllet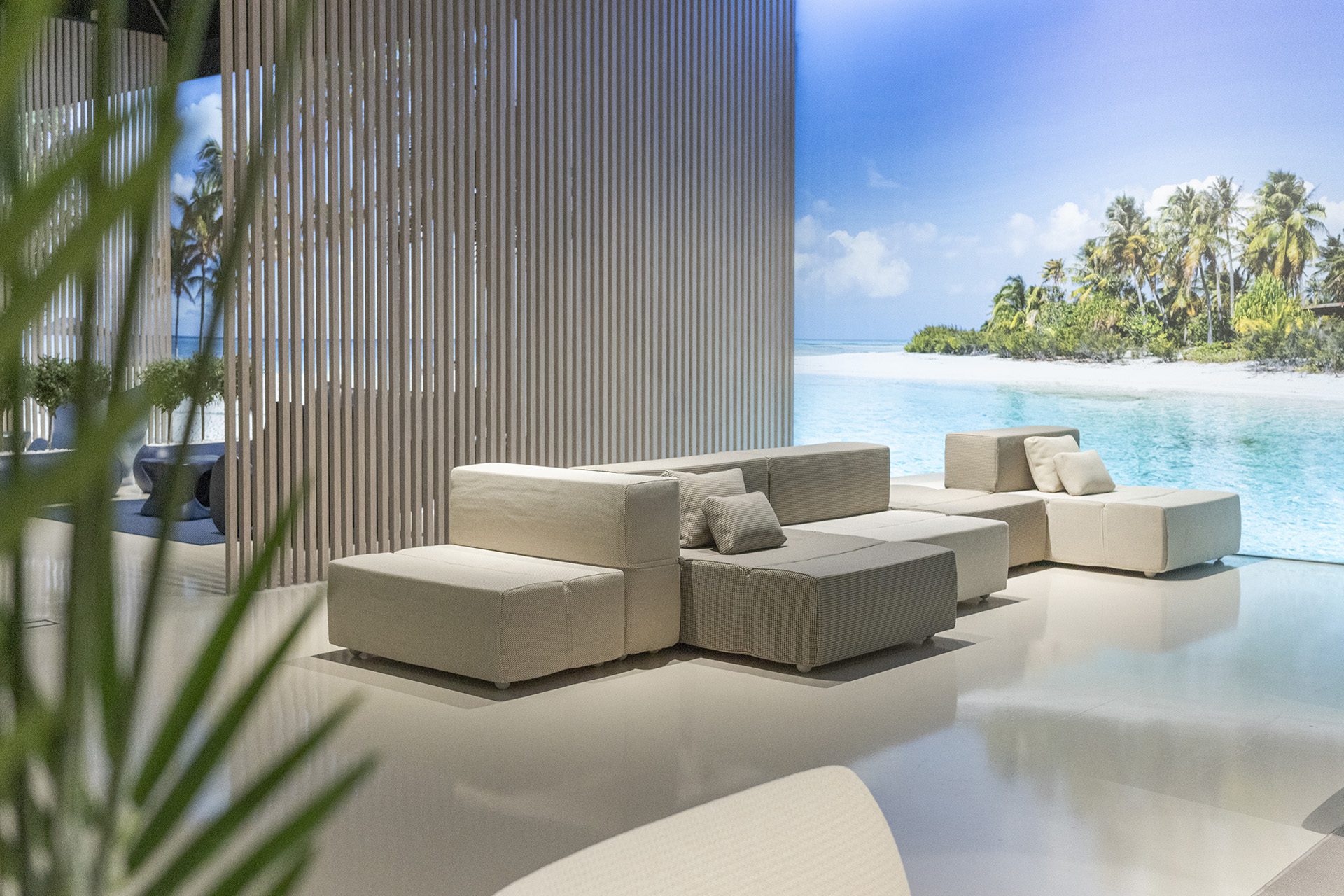 Tablet Collection, by Ramón Esteve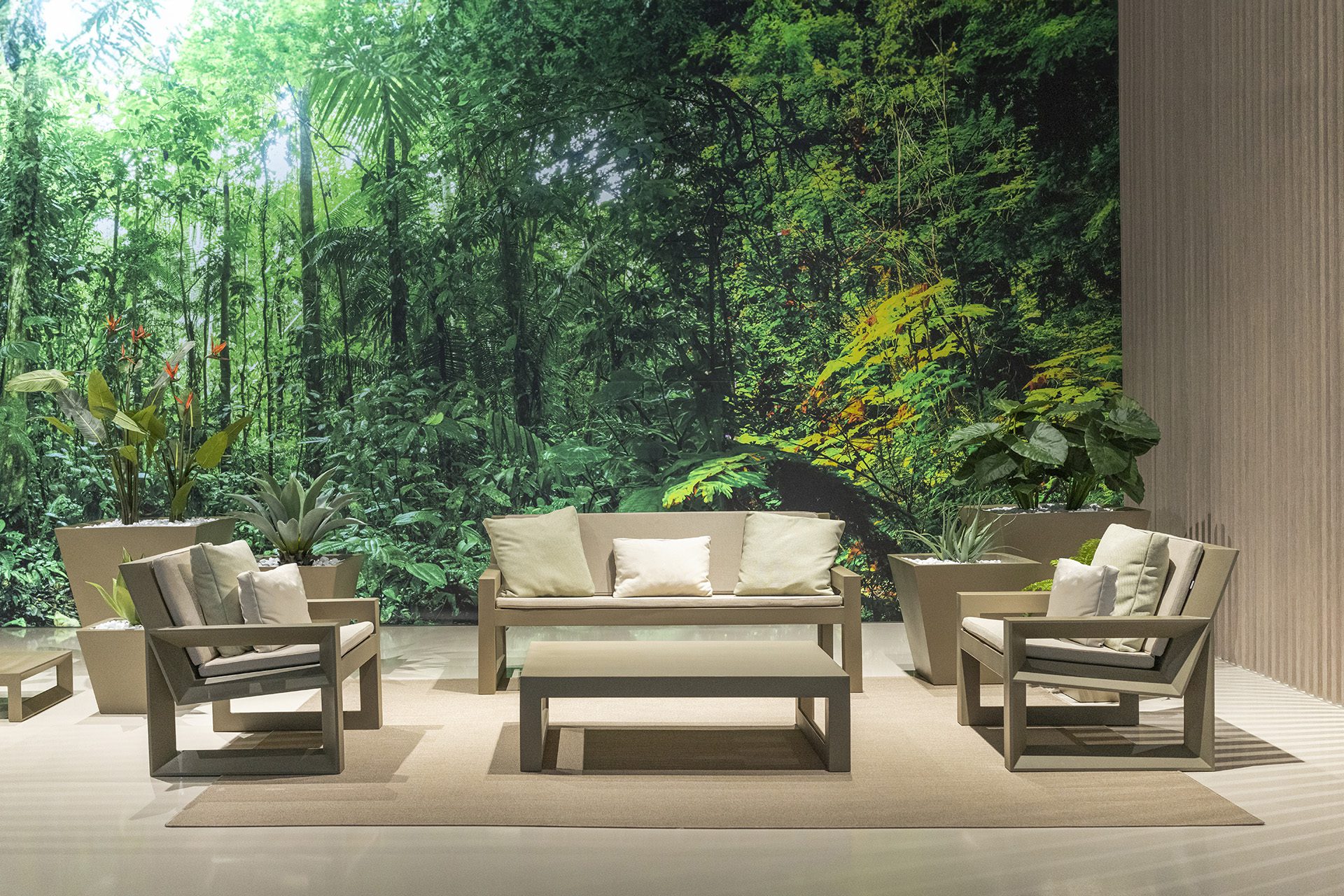 Frame Collection, by Ramón Esteve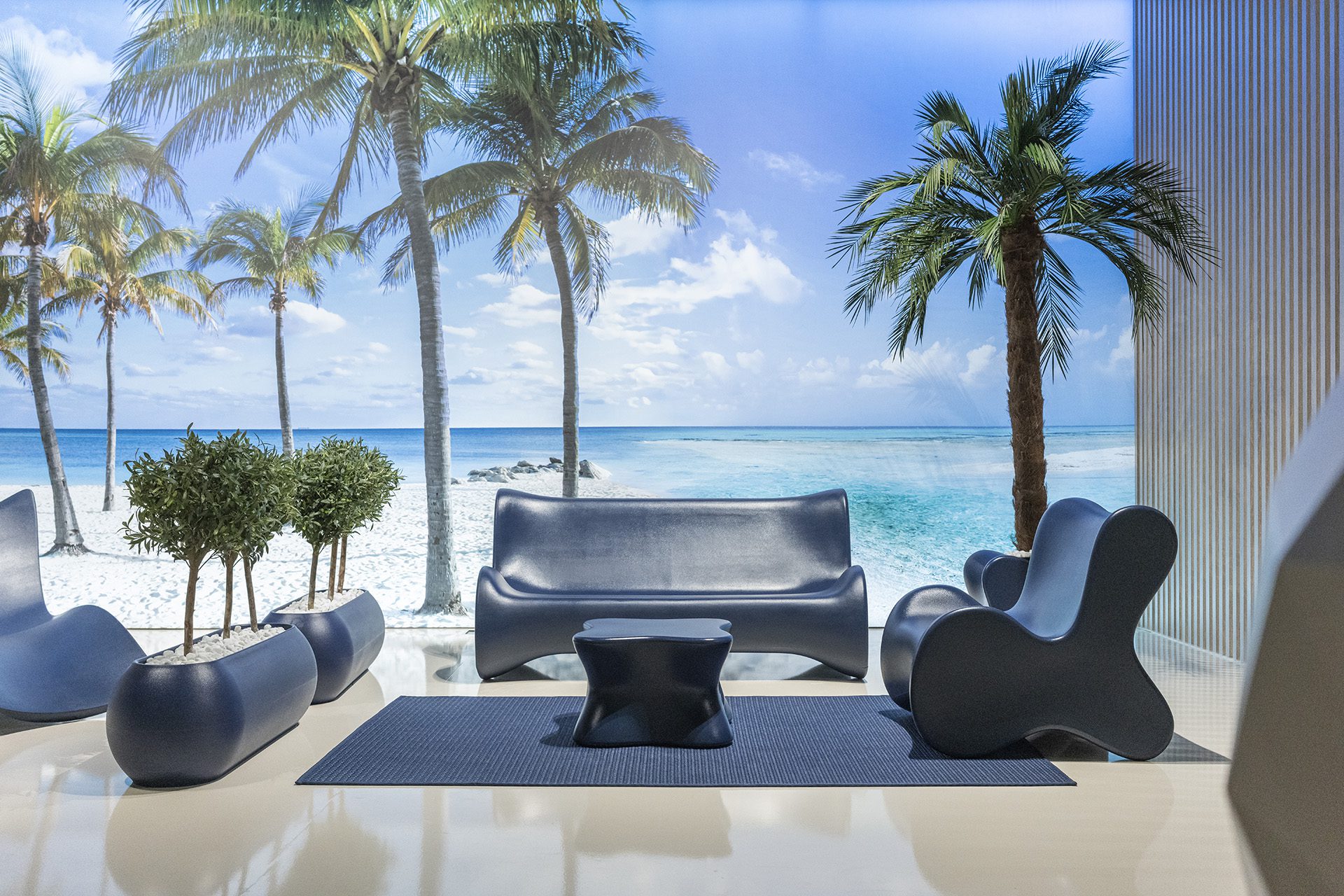 Pal Collection, by Karim Rashid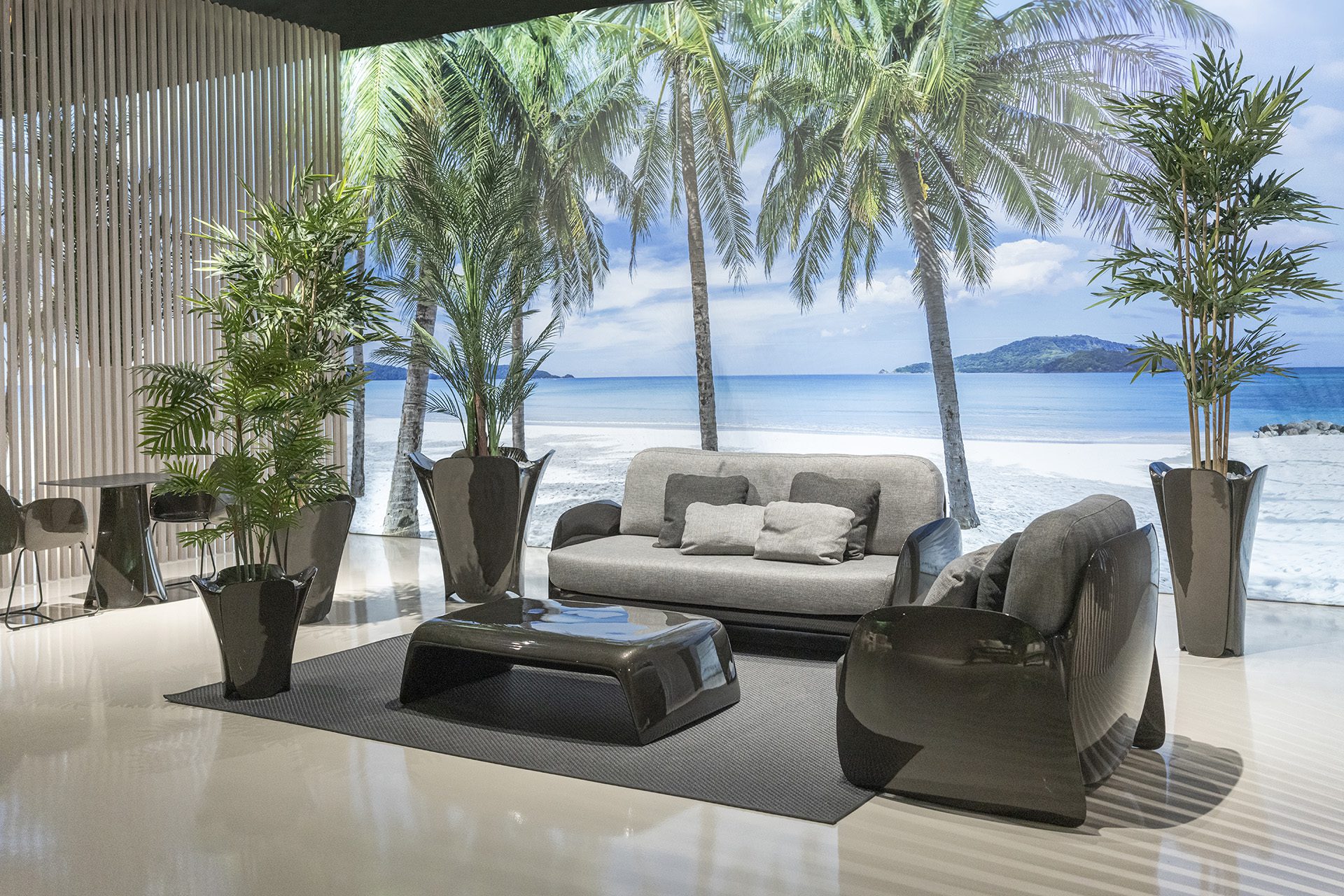 Pezzettina Collection, by Stefano Giovannoni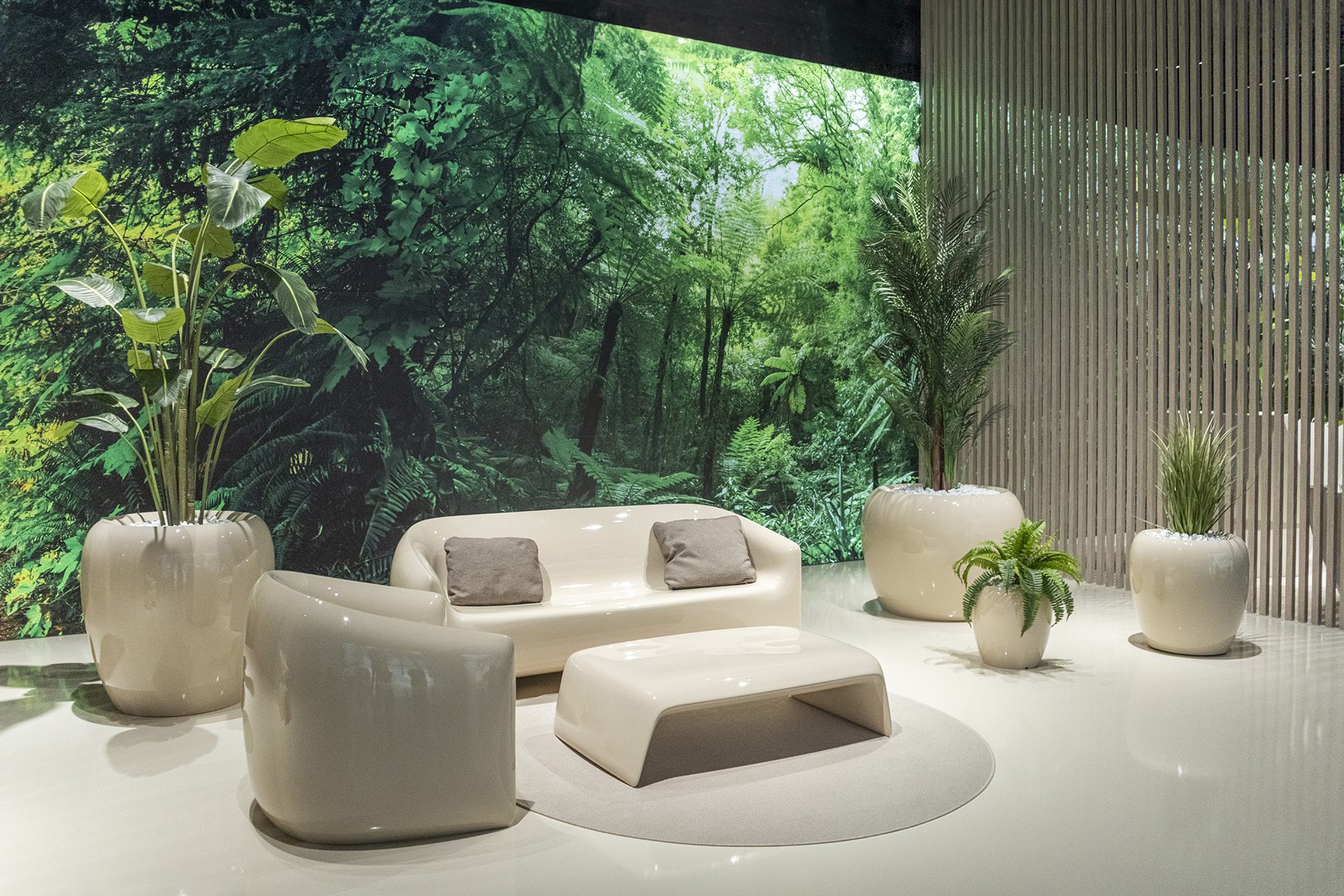 Blow Collection, by Stefano Giovannoni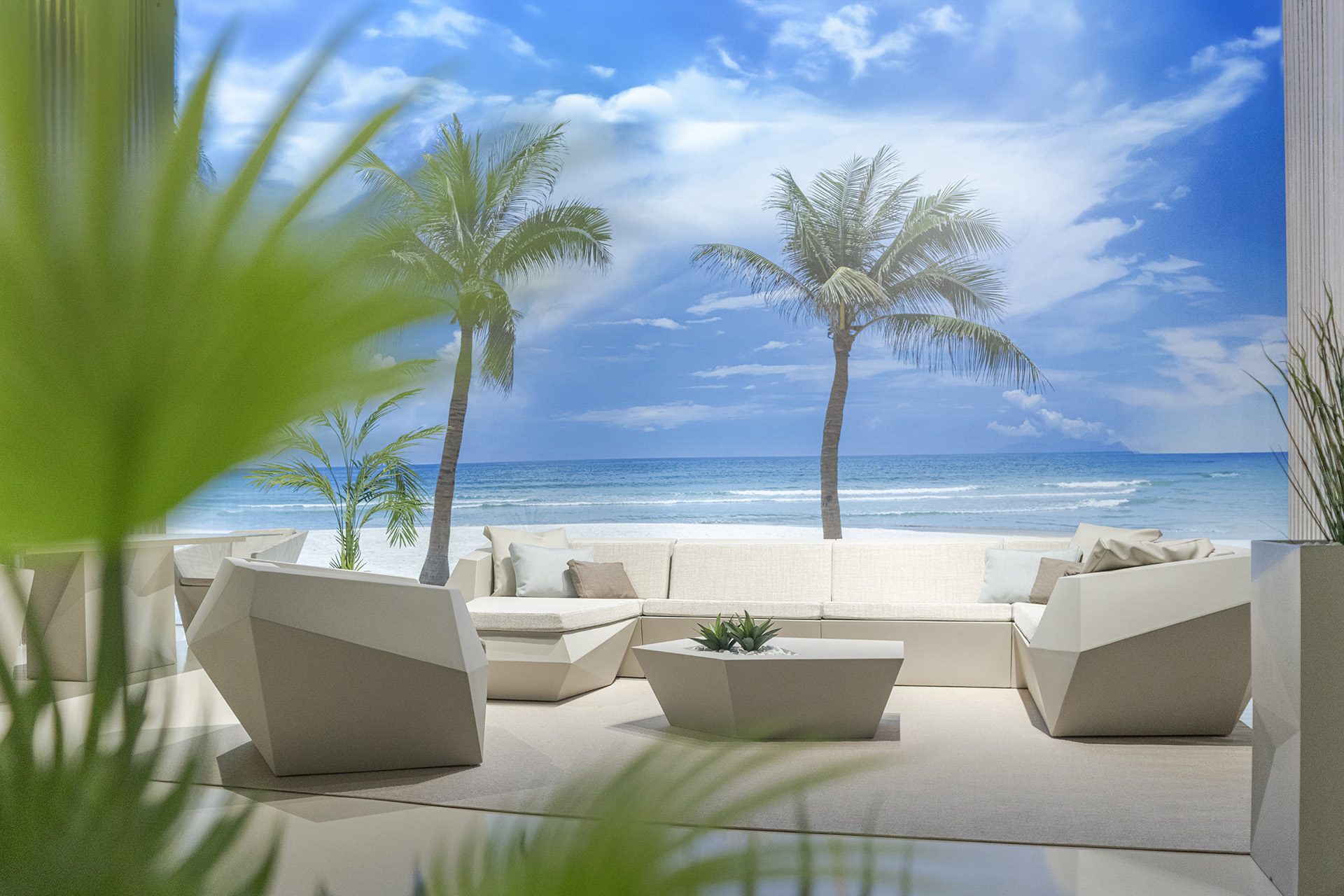 Faz Collection, by Ramón Esteve
Next, the ambiences of the extensive Faz, Ulm and Vela collections, designed by Ramón Esteve, stand out. These three collections occupy both sides of the showroom. On the left side are the striking daybeds and loungers. While on the right side are the modular sofas. All the rooms are decorated with their respective pots.
The first floor concludes with all the pieces from the new Gatsby collection, with its modular sofa and the different models of dining tables, high tables and low tables.
The backlit elements are an aspect you can't overlook. Throughout the entire ground floor of the showroom, behind each collection, you'll find backlighting that transforms the space into something truly magical.
One of them simulates the lushness of a forest or jungle, creating a more interior and cosy atmosphere. The other backlit one simulates a mile-long beach, inviting you to immerse yourself in a relaxing and refreshing experience.
The first floor: contract and sophistication
On the first floor, which covers an area of 750 square metres, we have recreated different environments designed especially for commercial and contract projects, where sophistication and style merge to transform any space.
One of the most outstanding features of this floor is the presence of our polypropylene products, which combine lightness, strength and stackability, essential characteristics for the HORECA sector.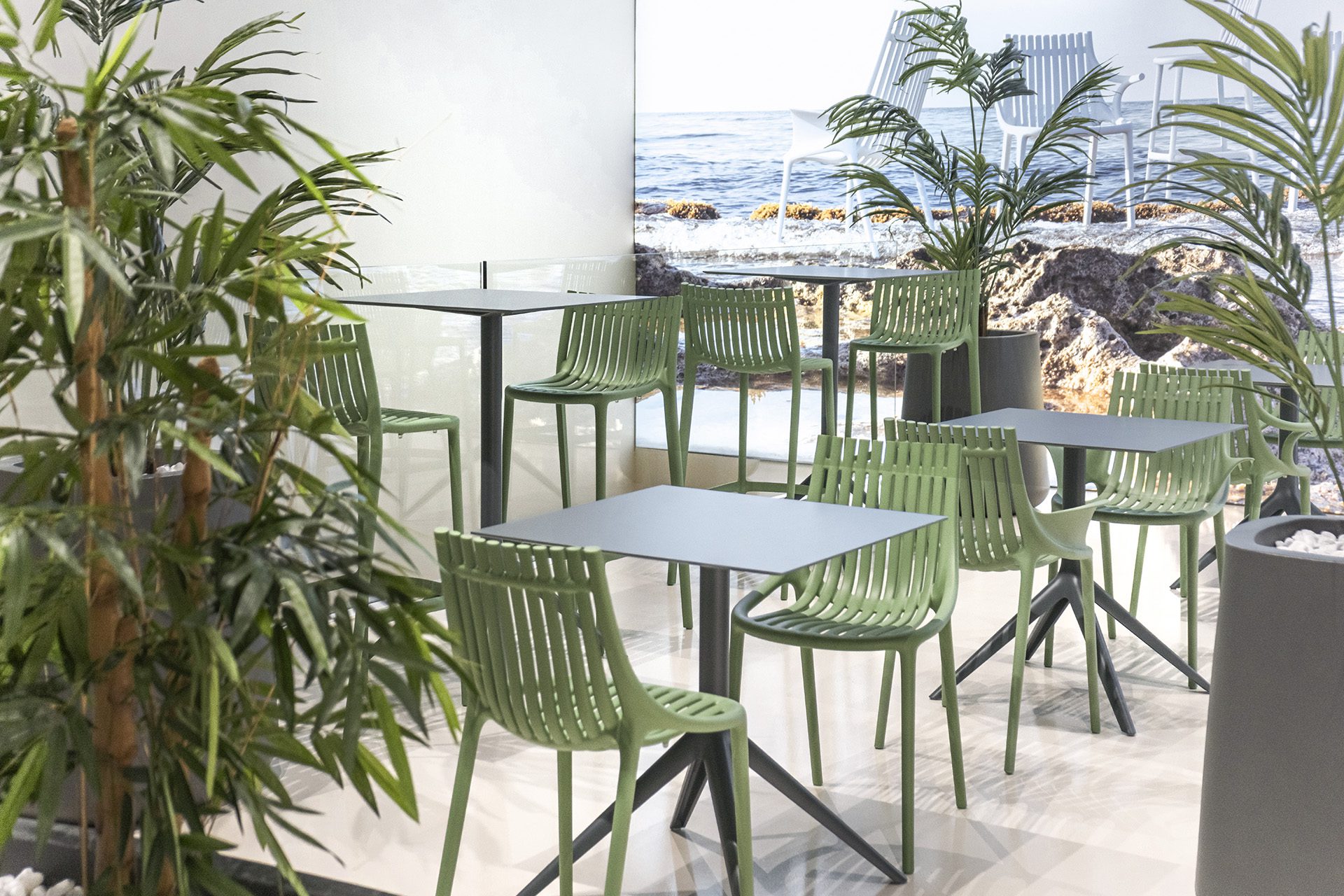 Ibiza chairs and stools next to Mari-Sol tables, designs by Eugeni Quitllet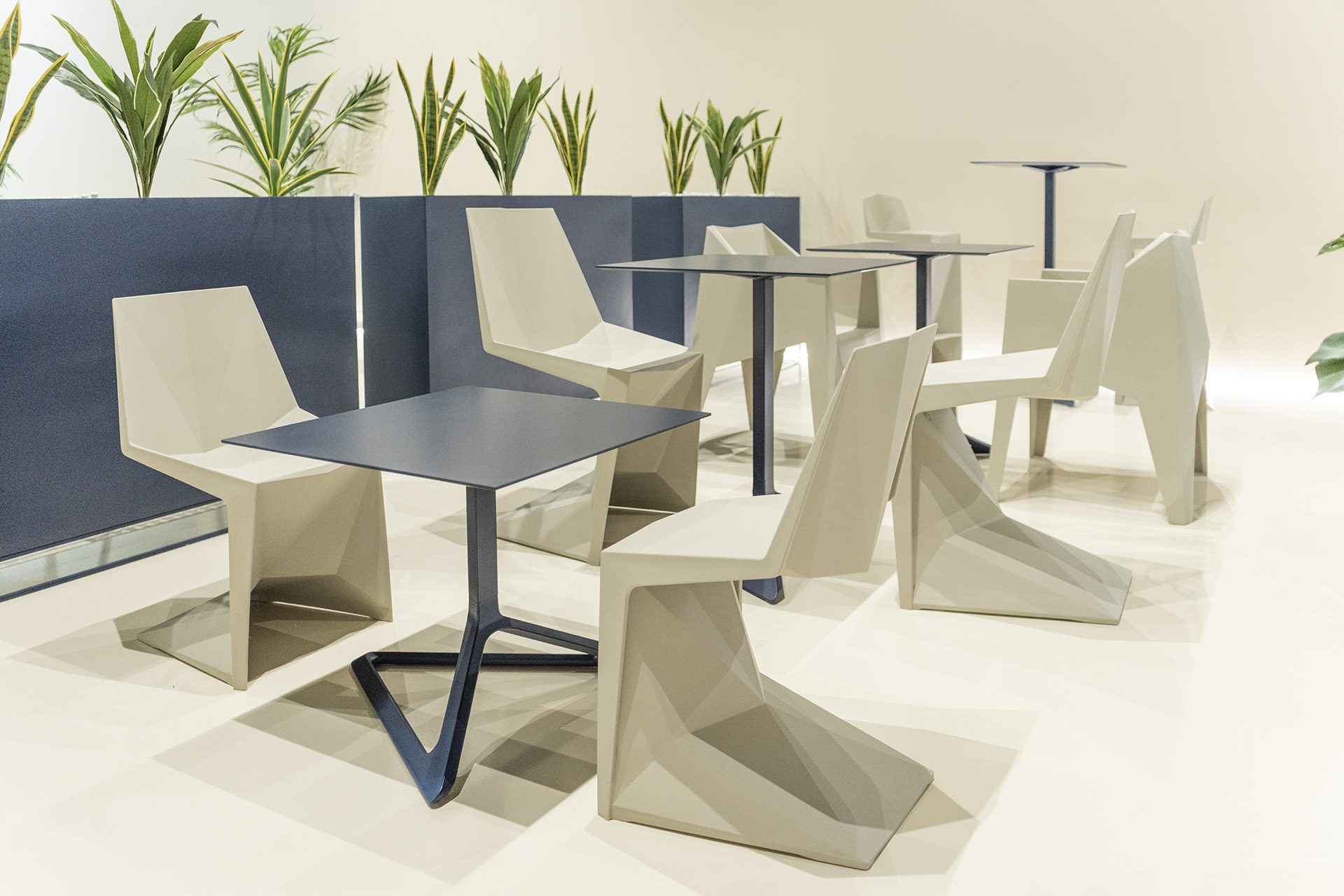 Voxel chairs and armchairs, designed by Karim Rashid, together with Delta tables by Jorge Pensi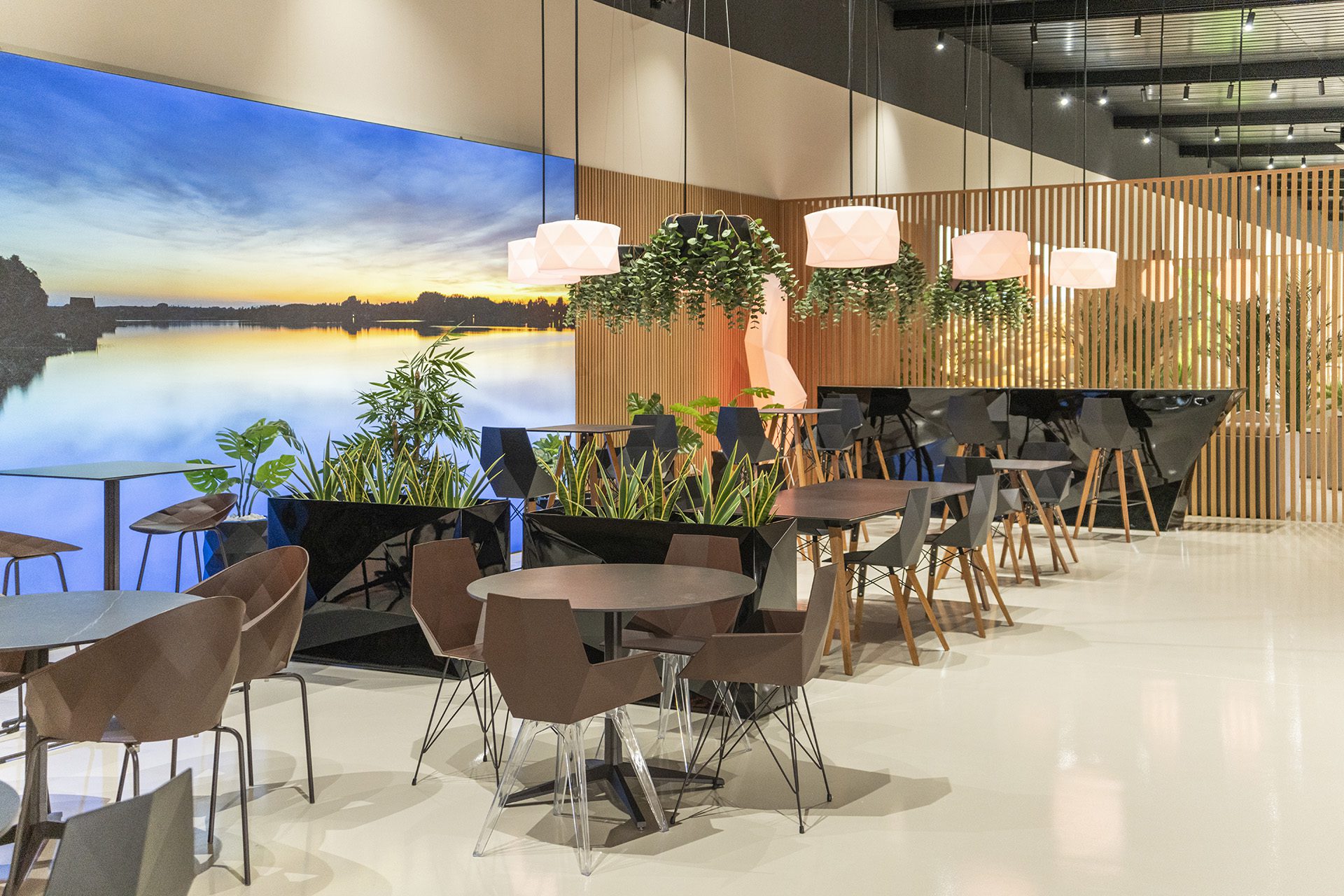 Elegant contract ambience with Faz, Marquis and Vases collections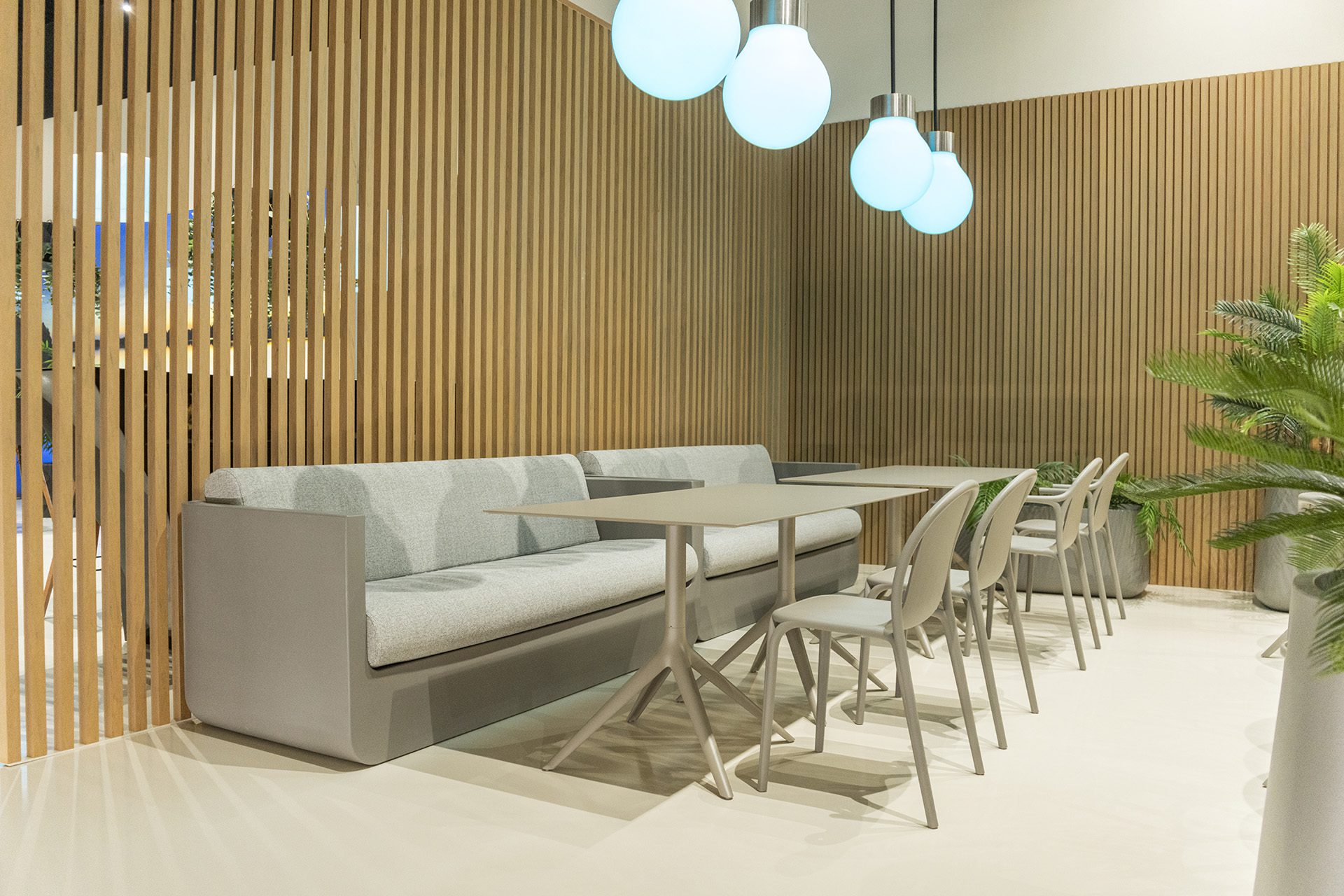 Combination Ulm sofa, Mari-Sol tables and Brooklyn chairs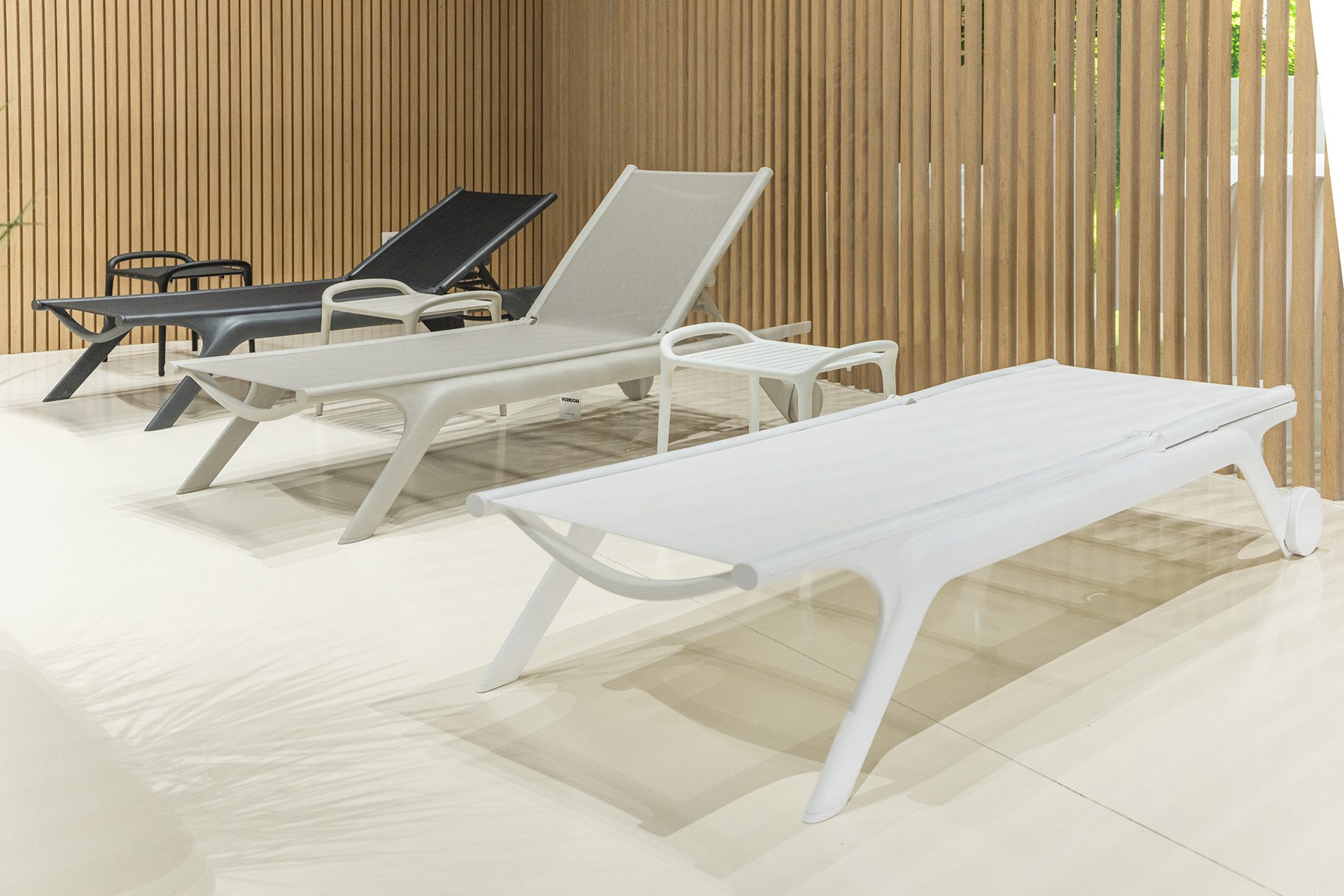 Africa sun loungers in different finishes, designed by Eugeni Quitllet
A tribute to our beginnings
To honour our early years, we have reserved a special space at the end of the first floor, where you will find a collection of Vondom planters in different sizes. These planters are a reminder of our commitment to design and beauty in all its forms, and are designed to enhance the aesthetics of any contract space.
At Vondom, our passion for design and innovation is infinite, and our new interior showroom is a reflection of that commitment. We aim to showcase our ability to create spaces that convey beauty and harmony, in perfect harmony with nature and modern design.
We look forward to seeing you in our new showroom in Beneixida to explore the next generation of Vondom! Book your appointment: