The ski season is about to begin. Vondom provides sturdy furniture for spaces dedicated to leisure on snowy days.
Winter is approaching and with it the days get cold, rainy and snowy, so this is the beginning of the ski season. Perfect days for snow lovers, for all those who are faithful to winter sports, and of course, for ski resorts and nearby hotels. Many of the restrictions caused by Covid-19 have already been removed and this year skiing will be the biggest fun of the winter season.
Vondom's snow sturdy furniture
The largest ski resort in the Pyrenees, Grandvalira, is where the Riba Escorxada terrace is located, has been decorated entirely with Vondom outdoor sturdy furniture. In one of the areas, the Sofa, armchair and coffee table set of the Blow collection designed by Stefano Giovannoni have been placed.
Next, the armchairs and tables from the Pillow collection by the same designer have been placed, with the aim of creating a chill-out area so that skiers can have a comfortable rest after an intense day of sports and adventures in the snow. In the adjoining area, there are high tables and stools from the Noma collection designed by Javier Mariscal.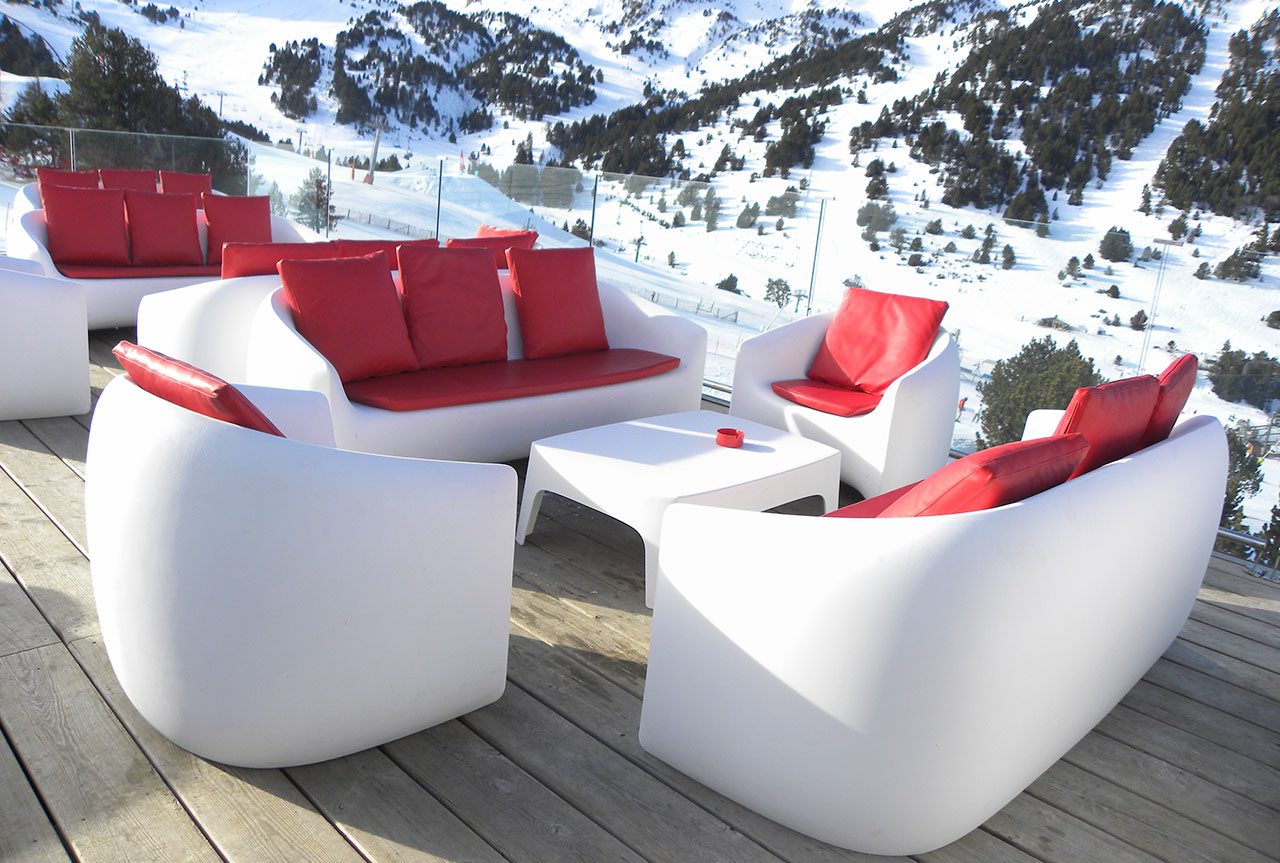 Recently, at the IQOS space, were chosen Vondom furniture pieces to offer their customers a space where relax and enjoy the wonderful views of the snowy landscape of the Spanish Pyrenees.
On this occasion, the terrace has acquired the furniture designed by Ramon Esteve, the Vela sectional sofas, the Ulm sofa,  together with the Frame Collection bar tables and bar stools. Minimalist and sober sturdy furniture that creates a warm and enjoyable area.
On the other hand, the ski resort Ramsau am Dachstein in Austria has also opted for the furniture of the Pillow collection designed by Stefano Giovannoni, in all its color ways, the contrast with the white snowed mountains is amazing and it is impossible not to draw the attention of all visitors.
Likewise, the Alps Lodge Hotel located in the Swiss Alps, an establishment that stands out for its natural and rustic style provided by wood. Gray and brown tones create a pleasant atmosphere. The furniture has been placed in every corner of the hotel, this sobriety contrasts with the bright colors of the collections of the Spanish brand Vondom.
All these establishments aimed at providing a sensational experience and winter sports activities, have not chosen the outdoor furniture randomly, but have selected precisely Vondom furniture.
Since the material we use, polyethylene, allows them to be very resistant pieces to extreme temperatures, durable, lightweight and easy to clean. Thanks to the rotational molding technique, this furniture can be illuminated. In addition, they are created by well known international designers, so wherever they are displayed, they have the ability to create unique and charming atmospheres.