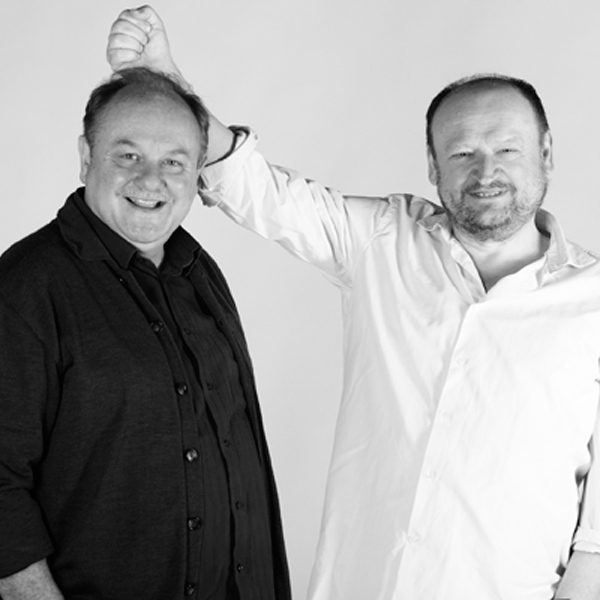 Archirivolto Design
Claudio Dondoli (*1954) - Marco Pocci (*1953), Italy. Archirivolto was founded in 1983 by Claudio Dondoli and Marco Pocci as an industrial planning, design and architecture studio. While studying Architecture in Florence, Claudio and Marco and some friends put up an experimental theatre group. When they decided to focus their joint efforts on design, consolidating their ties of friendship, their interest in theatre strongly influenced the setup of their new studio, drenched in creativity, sense of reality, respect and attention for thE public.
Who really are you?
_Archirivolto design is very creative, devoting itself to all that the world has to offer in industrial design. Nowadays we are moving forward with architectural projects at an international level and have created a factory-farm that is combining design with the best Tuscany wine.
What do you think of when you hear the word plastic?
_It's difficult for us to define something that for us is so essential, like bread and water. For us plastic is "The Material", it's flexible and inspiring enabling us to create what we want, how we want. It's true it's a man-made material but it's definitely close to nature. Nowadays it's also 100% recyclable. We could call it a "godsend", if you want.
What is your favorite color?
_To choose a single colour is impossible. We need the full spectrum of colour, the rainbow, to live, but if we have to pick one, well then we would pick white for purity.
Which Vondom item from another designer would you put in your home?
_We would say that Vondom has a very wide selection and that the furniture is well coordinated but if we have to choose, without a doubt it would be "WING" by A-Cero. So light and inspiring, it's a must-have.
What would you prefer, Classic or Science Fiction movie?
_Science fiction for sure. We represent the future not the past.
Do you have any fetish object?
_Nothing in particular, but we are very close to "Oasis" (our factory-farm). If you can call that an object then it is our lifesaver.
What was the last thing you have bought?
_A good bottle of wine to celebrate the new Vondom Collection, including ours of course.
Do you believe in perfection?
_Perfection is a good word but as they say in Tuscany, "it doesn't belong in this World". We like to come as close as we can to it but we are imperfect beings.
Do you have any fixation or any quirky habit?
_Let's see. Obviously design but we would also say "Le Bon Vivre" (The good Life).
What do you do when you are not designing?
_We try to anticipate future changes so as to know how to adapt harmoniously to this ever-changing world, so full of information and stimulation.