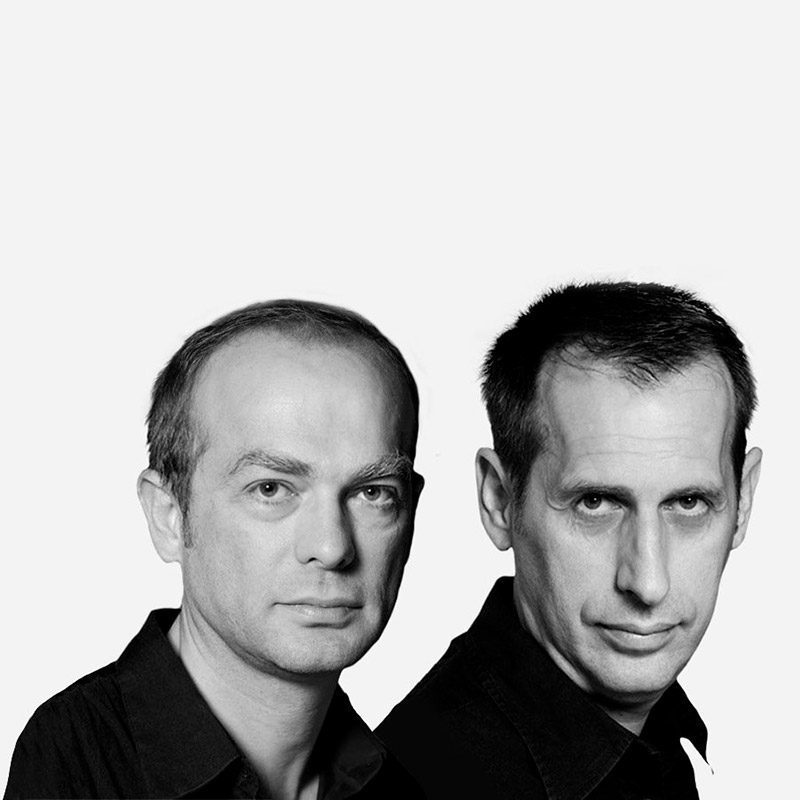 Gabriele + Oscar Buratti
Gabriele Buratti, architect and professor for interior design at the Facoltà del Design of the Politecnico di Milano (2003-2010) and Oscar Buratti, architect, set up the agency BURATTI+BATTISTON ARCHITECTS. The office carries out residential, commercial and industrial buildings; they design working, exhibit and retail spaces for Automobili Lamborghini, La Perla, Husqvarna Motorcycles, Oroblù, BMW. In the product design field they design for Antonio Lupi, B&B Italia, iGuzzini, Poliform, Poltrona Frau, Roca, Tecno.
Who really are you?
_We are brothers, architects and designers.
What do you think of when you hear the word plastic?
_ Without a doubt technology and new research. In contrast to other materials, like wood and stone that have a mass and are worked with cuts, finishes and assembly parts of the same material, plastic does not have an original form.
Which is your favorite color?
_In all our architectural projects colour is a very important element. We like it when it is part of the material and not merely used as a surface finishing.
Which Vondom item from another designer would you put in your home?
_It's easy to use plastic to form shapes that become outdated. Instead we are interested in an elegance that will distinguish each project. The item we like the most among those in the Vondom collection is the "Roulette" armchair by Eero Aamio, a timeless item designed by a great master designer.
What would you prefer, Classic or Science Fiction movie?
_Every moment represents a mixture of past experiences and traditions and the numerous tensions and technologies of the future. Since we are both fathers with very small children, at this point in our life we prefer cartoons which are technologically advanced and transmit an important social content.
Do you have any fetish object?
G_ At home hanging on my wall like an object of art I have an unrefined structure of Gio Ponti's "Superlegger's chair" from the 50's.
O_ Yes motorbikes. I love motorbikes because they represent the fine balance between shape and function.
What was the last thing you bought?
_A book about Dino Gavina, the internationally well known, Italian entrerprenuer who has worked with architects such as Scarpa, Breuer, Takahama and Castiglioni and to whom design owes a lot.
Do you believe in perfection?
_Each of our projects represents a search for perfection. Perfection of ideas and attention to details is the function of harmony between the form and the design.
Do you have any fixation or quirky habit?
_In our work we redo everything countless times until we believe we have achieved a perfect result.
What do you do when you are not designing?
G_ I like contemporary art and visiting galleries, exhibitions and museums.
O_ I like to mingle with ordinary people in the street and listen to the energy that surrounds them without a definite idea in my mind. Sometimes this inspires my work.