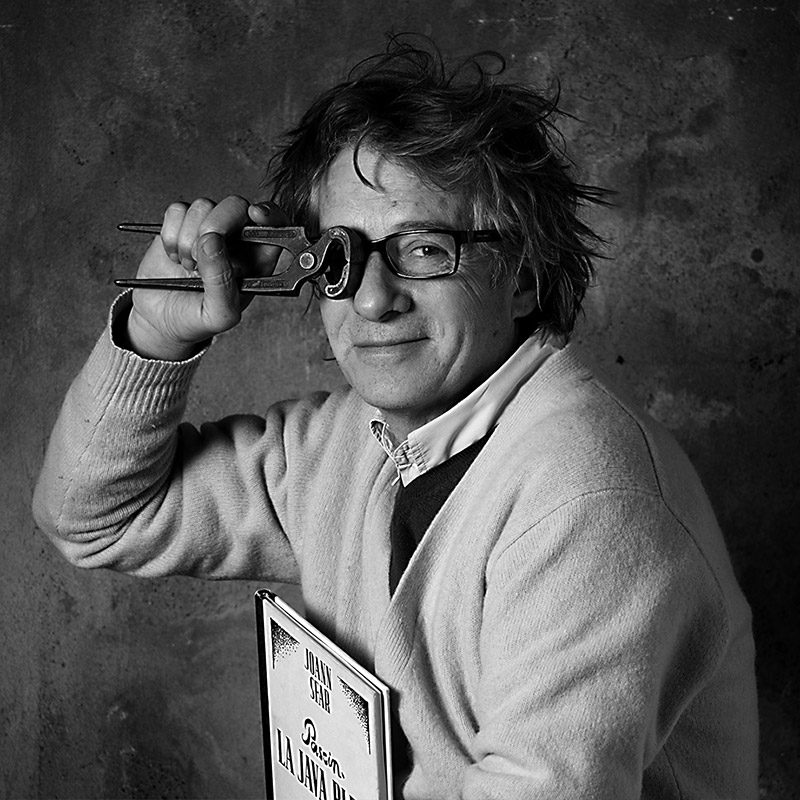 Javier Mariscal
Javier Mariscal is, First and foremost, an image creator who develops his work using all kinds of supports and disciplines. Furniture design, painting, sculpture, illustrations, interior design, graphic design, landscaping , gardening and so on are all the object of his professional, vital activity. H e has collaborated with compa - nies such as Memphis, Akaba, Bidasoa, BD Ediciones de Dise ñ o, Moroso, Nani Mar quina, Vorwerk, Equipaje, Alessi, Sangetsu, Magis, Cosmic, Amat3, Santa&Cole, Lali que and Phaidon. Mariscal expresses himself using a personal language that is complex in its intention and simple in its statements, innocent yet provocative, that he uses to innovate, risk and communicate. He enjoys provoking the eyes that look at his works and creating complicity with them.
Who really are you?
_I'm curious. I like to watch, observe, learn and draw everything. I draw the light, the sea, friends, bars, streets and objects.
What do you think of when you hear the word plastic?
_It is a material that allows us to make outdoor furniture and rugs that are resistant to rain, sun, water, and time.
What is your favourite colour?
_All colours are beautiful but it's also true to say that some colours suit more than others.
Which Vondom item from another designer would you put in your home?
_I like the items designed by Vondom Studio.
What do you prefer, classic or science fiction movies?
_Above all a good movie.
Do you have any fetich object?
_I really like Vespas especially when the first Piaggio manufactured in Italy has been a faithful companion that has took me to lots of different places for many years.
What was the last thing you bought?
_A Korean brushes set.
Do you believe in perfection?
_I believe in doing things well, seeking good solutions, keeping abreast of new technology and new ideas which will continue to open more and more doors to work and having fun.
Do you have any fixation or quirky habit?
_I have some habits but I can overcome them easily.
What do you do when you are not designing?
_Some say that design is a way of life. I also read, travel and go for walks.