Residential project
Vondom outdoor furniture decorates the spacious garden of this modern home in Valencia, Spain.
Location

València, Spain

Type

Residential

Architect

Chiralt Arquitectos

Collections

Faz, Frame, Marquis, Spritz
Vondom's outdoor furniture appears in this residential project
This detached house is located in the town of Rocafort, where its owners can enjoy a peaceful environment and a spacious garden with Mediterranean vegetation.
The house has two floors and a basement. The ground floor integrates the day area with the living cum dining and kitchen area in the same open-plan space that is well-connected to the exterior through large windows. The natural environment that surrounds it can be taken in from anywhere in the house.
This residential project is minimalist, yet avant-garde, with an interior design in the same vein, with simple clean-lined furniture. The tones of the different fixtures and fittings play a key role; they are restrained and soft colours that transmit serenity and calm, although they have been combined with black, present in some of the furniture and other structural elements in order to create contrast and highlight this house's elegance and modernity.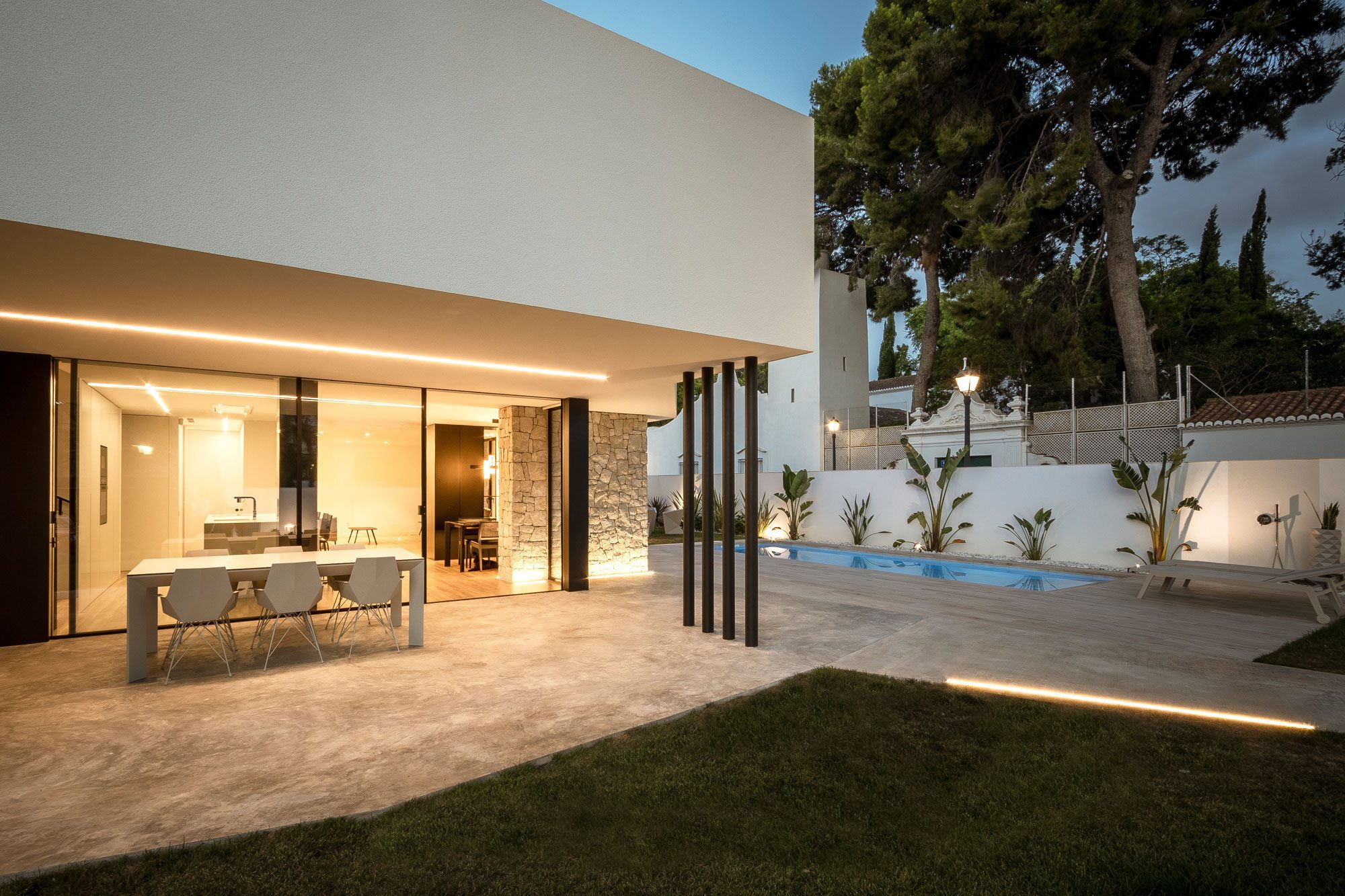 The exterior follows the same pattern as the interior: soft tones and simple-lined outdoor furniture. It is here, in the garden, where Vondom's outdoor furniture has been placed. The armchairs and low table from the Faz collection, designed by Ramón Esteve, are used for socialising on the house's outdoor terrace. The Spritz sun loungers, designed by Archirivolto Design, have also been placed next to the swimming pool. Furthermore, different planters have been chosen to complement the outdoor décor. The planter model from the Faz collection and other planters from the Marquis collection designed by Estudihac. An extremely characteristic design inspired by diamond cutting.
On the covered terrace there is an outdoor dining area with a Frame table and Faz chairs, minimalist furniture that oozes simplicity and sophistication.
In short, a home refurbished by Chiralt Arquitectos, which oozes sophistication and, in turn, an avant-garde design and comfort thanks to its interior fixtures and fittings, along with Vondom's outdoor furniture.
Interested in this project?
If you wish to receive more information about this project, you can contact us through this form.